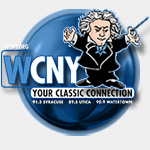 Your membership mades all the difference. Support "the world's greatest music", the music you love. Support WCNY/CLASSIC FM now!
Attention iPhone/iPod Touch owners!
You can listen to Classic FM and WCNY HD2 on your Apple iPhone and iPod Touch by using Wunder Radio, a 3rd party App available in the iTunes store.