CNY Legends: Success Beyond Sports
Event postponed. New date coming soon
WCNY Broadcast and Education Center
Syracuse, NY 13204
Free parking onsite
Pricing
$30– WCNY Member
$40– Non-Member
$60– VIP
Join WCNY for a very special event to support WCNY.
CNY Legends: Success Beyond Sports brings together three incredible leaders, each who have left their mark on our local community, the world of sports, and even their imprint across the country.
Be front and center in our WCNY Television Studios as we hear directly from each of these guest panelists. Guests will gain insight to the key ingredients of success. Hear examples of how to be a stronger community leader and/or public service advocate. Get powerful advice on how to overcome obstacles on your success journey. Find out what's next for Dennis, Erin or Floyd! Show your support of their careers, the impact they have made, and the legacy they are leaving across our region.
Enjoy local food, wine and beer samples, cash bar, networking, silent auction featuring autographed memorabilia, VIP meet and greet, photo ops and more!
Event Details
3:30-4:15 p.m.
VIP Meet & Greet
4:30 p.m.
Studios Doors Open:
4:30-5:30 p.m.
Local Wine, Beer, Food and Beverage, Networking, and Silent Auction
5:40-6:40 p.m.
Opening Remarks, LIVE Panel Discussion & Audience Q&A
Moderated by Jim Aroune
6:45 p.m.
Closing Remarks, Giveaways & Event Conclusion


About Dennis DuVal, Vice-Chairman, COO
Dennis DuVal has over 30 years of executive management experience in both the public and private sector, and is equally recognized for his ongoing role as a community leader and public service advocate.
The Academic Athlete
A graduate of Syracuse University, Dennis has
been recognized for his outstanding academic and athletic accomplishments including:
Academic All-American
Two-time Basketball All-American
Syracuse University All-Century Team Member
Letterman of Distinction
Syracuse Hall of Fame
Former NBA Player for Washington Bullets, Atlanta Hawks
Awarded Public Service
Dennis began his 26-year public service career with the Syracuse Police Department in 1978. As Syracuse's first African American Police Chief, he was commended by politicians, community leaders, and union officials for confronting mounting challenges with a progressive and innovative leadership approach. Among the many awards and designations accrued throughout his tenure are:
Two Syracuse Police Department Medals of Valor
Syracuse Police Department Meritorious Medal
Governor Mario Cuomo's Certificate of Valor
Pioneer in Law Enforcement Award
Onondaga County Veteran Association's Citizen of the Year Award
Upon retirement from public service and with nearly three decades of direct management experience, Dennis transitioned to the private sector as CEO/President and Founder of DevMar Associates, Inc., a successful government contracts compliance firm specializing in criminal justice strategies, international police programs, and Department of State contracting.
Dennis has served as a member and advisor on a number of diverse boards and committees in the Syracuse community. Dennis and his wife Jacki live in Manlius, New York with daughter Marisa and son Devin.
---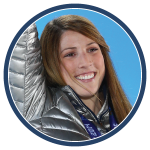 Erin Mullady Hamlin
Erin Mullady Hamlin is a four-time Olympian and the first female American luger to medal at any Winter Olympics, as well as the first American of either gender to medal in singles competition. She took the singles bronze medal in Sochi's 2014 Winter Olympics, something the Associated Press called "a feat that will surely go down as perhaps the greatest moment in USA Luge history".
FACTS PROVIDED BY ERIN HAMLIN:
4xOlympian ('06, '10, '14, '18); 2014 Olympic Bronze Medalist, marking the first American woman to medal in luge, also first man or woman to medal in singles competition for the US; 4x World Championship medalist (2 gold: women's singles-'09 (breaking a 99 race winning streak by the Germans, spanning almost 13 years) & women's sprint-'17, 2 silver: women's singles & Team Relay '17)
Member of the National Team for 15 years.
Most recently Erin was selected, and seen by millions all over the world, carrying our American flag for the 2018 Winter Olympics Opening Ceremonies, where she walked proudly with her fellow USA team members in PyeongChang, South Korea.
Erin is retiring from the Olympics and will be sharing what is next during WCNY's CNY Legends Event.
SOURCE: WIKEPEDIA
---

Floyd D. Little, PFHOF 2010
Floyd D. Little hails from New Haven, Connecticut, and from birth, second best was a condition he was not comfortable with. Floyd set out on a path less traveled armed with sincerity, honesty, and the five basic ingredients for success: Drive, Determination, Dedication, Commitment and Sacrifice.
Initially a man of small means and resources, Floyd began his climb through education at Bordentown Military Academy in New Jersey. Being an outstanding athlete he was recruited by several colleges and universities, but in 1963 he marched on to Syracuse University where he continued his personal commitment to excellence. He excelled on every turn, which garnered him "All American Honors" every year in varsity. As a hard working student Floyd realized that education was the real key to success, so he always had time to coach the student who needed an extra hand. As an athlete, he always had time for the child who wanted an autograph or photo. He became known as 'the man with the wherever pen.'
The victory came for Little when he was drafted in 1967 to the Denver Broncos where he toiled for nine rugged years as the leading rusher. He led as the team's career rusher with 6,323 yards in 1,641 attempts, and scored 43 touchdowns. Little was recognized as a three-time All American player and twice won the American Football rushing title. Floyd was extremely honored to have his number, the legendary 44, retired both at Syracuse University and at the Denver Broncos.
He was recognized by the NFL league-wide and was inducted into seven "Hall of Fames," including the National League College Hall of Fame, the Colorado Sports Hall of Fame, Professional Athlete of the year, the Denver Bronco Ring of Fame in 1984, the Gator Bowl Hall of Fame in 1989, the Syracuse Letterman of Distinction in 1989 and the NCC Silver Anniversary Award in 1992. With a foundation built on integrity and leadership, Floyd was the recipient of over eighteen professional athlete achievement awards during his career. On October 24, 1972, the Denver community proclaimed it to be "Floyd Little Day" and for three consecutive years he was awarded the "Third Down Award" by the vote of his fellow teammates for outstanding contributions to the team.
In his latter years of professional football, his pursuit of excellence continued. He graduated from the University of Denver, College of Law in 1975. Little's success on the football field was surpassed only by his commitment and contributions to mankind. His sincerity and honesty were apparent to all he met. From 1968 to 1982 Floyd received over thirty of the most distinguished community service awards in America. In 1974 alone, he received three of the most prestigious community service awards: the YMCA Brian Piccolo Award, The Distinguished American Award for Community Service presented by the Connecticut Hall of Fame, and The American Jewish Community Appeal for Human Relations Citation in recognition of the outstanding contributions Floyd made towards the betterment of man and his community.
Upon retirement from the Denver Broncos in 1976, Floyd Little could be seen on NBC Sports as a television commentator. In spite of his schedule, he still managed to assist the Honorable John A. Love, Governor of the State of Colorado, in Urban and State Affairs.
Floyd Little made the difficult transition from star athlete to successful businessman. From 1977 to 1979, he received formal training while attending the Ford Motor Executive Management Training Program where he participated in extensive seminars and in-field training in the areas of Sales, Marketing, Accounting, Finance and Purchasing.
He moved to Federal Way, WA, a suburb of Seattle, in the early 1990's after purchasing a Ford dealership and became the President and owner of Pacific Coast Ford, eventually becoming a private capital dealership in 1996. Floyd was known as one of the most successful and well-respected Ford Dealers in the industry. Ford Motor Corporation frequently sought Floyds' assistance as a consultant and instructor for its Minority Dealers Development Program. He has assisted numerous dealers nation-wide, including training and installing the first African American female dealer in Taft, CA in 1986. Floyd retired as a proud Ford Dealer in December 2009 and at the time was the longest tenured Minority Dealer in the Ford Portfolio.
On February 6, 2010, Floyd received the long overdue recognition of being elected to the Pro Football Hall of Fame. He was inducted on August 7, 2010 in Canton, OH where a bronze bust in his image is enshrined and on display in perpetuity. On April 6, 2010 his current community of residence, Federal Way, WA honored Floyd by proclaiming that day to be 'Floyd Little Day'. On June 13, 2010 Floyd was celebrated once again as he was inducted into the African American Ethnic Sports Hall of Fame during a ceremony in Seattle, WA.
In June 2011, Floyd accepted an invitation to return to his Alma Mater Syracuse University as the Special Assistant to the Athletic Director. In this role he served at the pleasure of the AD, representing him throughout the University as well as around the community when the AD is not available. He managed the Athletic Departments courtesy car program, attended numerous school, community, and sporting events on behalf of the Athletic Department, and worked with staff, faculty, coaches, and student athletes on issues that affect students' performance on and off the field. In May 2016 Floyd was honored to receive one of the most prestigious awards of his life, an Honorary Doctorate Degree of Humane Letters, from Chancellor Kent Syverud.
Floyd continues to travel the country as a popular and sought after public speaker and makes public appearances at NFL and Pro Football Hall of Fame events. In his spare time he actively participates in, and supports numerous charitable events around the country, including the Floyd Little Scholarship Fund in his hometown of New Haven, CT. In addition to all of his attributes, Floyd is a family man. Married in April 2003 to Syracuse native DeBorah A. Green, he has two daughters, Christy Little Jones and Kyra DaCosta, a son Marc T. Little, and five grandchildren, AJ, Skye, Blaze, and Hayes Jones and Yakob Little.
Floyd Little strives to make a difference in everything that he does. He is committed and cares not only about self-improvement, but also about improving the lives of others…. And his record shows it.