Yes to Success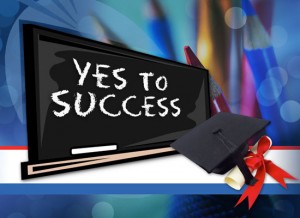 The key to reaching dreams and succeeding in life starts with staying in school.  Today, students face many challenges that can make it difficult to stay in school and earn their high school diplomas.  Students say that some of those challenges include pressure from friends urging them to leave school, the temptation to start working and making money, difficulties at home that make it difficult to get to school or to study, being bullied in school, finding classes uninteresting and trouble understanding English or making up low test scores.  According to the Gallup Student Poll, 2010, 92% of students believe they will graduate from high school, but only 7 out of 10 do graduate (U.S. Department of Education, 2008) with fewer than 6 out of 10 African-American, Hispanic, Native American, low-income and urban students graduating (Education Week, Diplomas Count, 2010).
There are many good reasons to "drop in, rather than drop out."  Here are just a few from www.nystayinschool.com.  At this website, sponsored by the NY Association of School Psychologists, there is a lot of information about why it's important to stay in school, quizzes to take to see if you know the facts about dropping out and much more.
Graduating from high school makes for a better life in the future.  High school graduates earn $143 more per week than high school dropouts.  College graduates earn $479 more per week than high school dropouts.
Those without high school diplomas are four times as likely to be unemployed.
The frustrations of not being able to make a good living can lead people down paths to disaster.  For example, 82% of those in American prisons are high school dropouts.
Those are just some reasons.  For more, click on the videos below.  People of all ages talked to us about their experiences and why students should stay in school.  Some of these people have dropped out, thought about dropping out but stayed strong or watched others drop out.  See what they have to say.
Jaquar Sampson — Watch Video — Jaquar Sampson, a "Say Yes to Education Scholar" discusses why he felt the need to graduate high school and not follow into the footsteps of people he knew that were dropping out of school. He tells us why his dreams are still attainable only because he has a high school diploma.
Youth Impact Program — Watch Video —  This spot takes a look at a summer youth football camp for middle school boys run by Syracuse University football players; however, this is more than just boys playing football. Along with learning the x's and o's on the field, these middle school students learn life skills that will stay with them forever. As one middle school student puts it "You learn how to be a man".
Deka Dancil — Watch Video — Deka Dancil is a "Say Yes to Education Scholar" who overcame tremendous adversity to finish high school. She tells us that some people use excuses to dropout of high school but her herself and her friends faced many of these same problems and they were able to finish high school. Though it wasn't easy, Deka knows how important graduating high school is to her future.
Collins Barber Shop — Watch Video — For over 41 years Collins Barber Shop has been a staple in the Syracuse Community. Carlton Collins Jr. has been making sure kids who come into his barber shop know how important a high school education is. Carlton and his family get so excited about a younger Collins graduating high school that they put a photo of the graduating senior on their barber shop wall.
Maria Hinojosa — Watch Video — Award Winning PBS Journalist Maria Hinojosa talks about Latino high school dropout rates.
Learn about WCNY's Enterprise America program, a part of the American Graduate initiative.
Join the Yes To Success discussion on Twitter by using hashtag #YESTOSUCCESS