CC's Weekly Blog
Happy Palentine's Day!
by Charlotte Hansen
February 13, 2022
Hello everyone, and welcome to my first blog post! My name is Charlotte, I'm an education intern here at WCNY, and I'm here to welcome you and wish you a Happy Palentine's Day!
Valentine's Day is not just about sweethearts and romantic love. It's also about celebrating with your friends and all the amazing friendships you have made over the years! There have been quite a few memorable friendships made here at PBS Kids.
Muffy Crosswire and Francine Frensky
Francine and Muffy have been through a lot together through the 25 years "Arthur" has been gracing our screens; from helping each other with their homework, to going to camp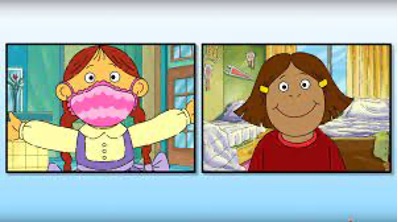 together. While they both come from different backgrounds, their friendship always comes first.
Activity: Francine and Muffy Bookmark 
Parents: Take your child to the local library and check out an Arthur book. Read it with them and talk about how friendships are important in their lives. Ask guiding questions like, "How are the friends in the story, like you and your friends in real life?"
The CyberSquad (plus Buzz and Delete)
Even fighting the devious Hacker can't stop these pals from saving the day. For 20 years, the CyberSquad has been working together as a team! In each episode, Matt, Inez, Jackie, and Digit help each other solve math problems and save the environment. Even the guys working for Hacker have a strong relationship; Buzz and Delete have always had each other's backs and help each other.
Activity: Buzz and Delete Save the Day!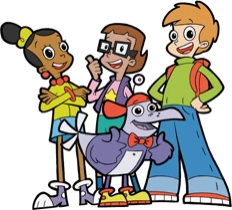 Parents: Even bad guys can work together and help each other out, just like any good friendship! Your child can help Buzz and Delete by using their math skills to save the day!
Buddy and Tiny
No matter what species you are, you can always have fun exploring different eras from the Mesozoic Era (a fancy word for "The Age of Dinosaurs"). Siblings Buddy and Tiny don't let their differences affect their fun or friendship, as they learn about dinosaurs as they travel the Dinosaur Train.
Activity: Dinosaur Train Trading Cards
Parents: Use the trading cards to talk to your child about how their friends can have differences, just like Tiny and Buddy! Remember, what makes us different is what makes us special.
Chris and Martin Kratt
Exploring the wild can be a lot of fun, and these brothers have been doing just that for over 29 years (even longer than I have been alive!). It's always important to have your friend's backs, and Chris and Martin Kratt are no different in "Wild Kratts." By helping each other out of sticky situations with a good sense of humor and plenty of animal knowledge, these brothers always remember to support each other through everything.
Activity: "What Am I?"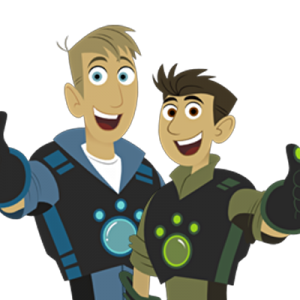 Parents: This is a great game for siblings (or other family members) to play together! Work together to figure out the animal answer. If you grew up with Zoboomafoo, you could even turn the game into a song (remember the "Who Could It Be?" song).
Mister Rogers and Mr. McFeely
Neighbors can also be good friends! They look out for each other and help each other out. My favorite part of each show was when Mr. McFeely came by. Whether delivering a nifty video on how crayons are made, or simply a visit to see an old friend and neighbor.
 Activity: When Friends Fight
 Parents: Watch the video with your child and discuss how neighbors (and friends) can communicate, even when they don't agree with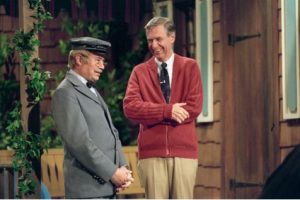 each other. Encourage your kids to ask questions about the video, and talk about how friends can work together to solve problems by using good communication skills.
◄ Back to News