CC's Weekly Blog
Having Fun Isn't Hard: Celebrating Our Favorite Aardvark!
by Charlotte Hansen
April 4, 2022
Hello, parents! Charlotte here! I hope you're all doing well! I was in Philadelphia this past week for my annual vacation, and now I'm back from touring the, "City of Brotherly Love," to talk about this week's topic! Arthur!
As a child I grew up watching "Arthur" on PBS. I learned a lot about going to the library and how much fun it could be. I traveled all over the world without ever leaving my room. I marveled at Buster's adventures across the globe, and learned all about poetry from Jack Prelutsky when he visited the Elwood City library.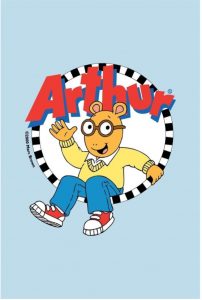 The show follows the adventures of an 8-year old aardvark named Arthur, who grows up in Elwood City with his friends and family. On top of going to the library, Arthur also learns important life lessons like being kind to others, and learning how to get used to a new baby.
But Arthur's motive to be kind to others is what really drew me in. When the show first started in 1996, the Internet was a relatively new concept and smart phones were years away. But even without technology, the message behind Arthur remained the same: be true to yourself.
Arthur and his friends have gone on countless adventures, both in and out of the library. With multiple Arthur books, kids can enjoy Arthur's adventures from the spelling bee, to when he got his first pair of glasses at the library. There is even a book for grown-ups that came out in January.
Arthur Activities To Do At Home:
1. Create a Kindness Tree
One of Arthur's primary messages to kids is to "treat others the way you want to be treated." Help your child to think of ways that they can be kind to someone and create a kindness tree. Each "leaf" your child puts on the tree can represent something as simple as, remembering to clean their room or even holding the door open for someone!
2. Library Card Song
An oldie, but a goodie! Arthur and his friends love to read books at their local library, and this song shows all the cool stuff you can find there. Take your child to the library and show them around all the sections that make a library what it is. If going to the library is not possible, no need to worry! Many libraries have online activities for families to enjoy at home!
3. Time Capsule
Time capsules can be a great window into the past. From old magazines to letters, a time capsule can hold anything. Along with your child, put together a time capsule with an old shoe box that reflects this year! Don't forget to come back a few years later and take it out! You might be surprised how much things have changed.
4. Dear Adil
Pen pal writing can be a lot of fun! Arthur really enjoyed writing letters to his Turkish pen-pal, Adil, and telling him all about his life in Elwood City. While Arthur made some wrong assumptions about Adil's life, he learned a lot about true Turkish culture, and even made a new friend! Some schools or libraries offer pen-pal programs, so be sure to ask!
5. Create a Memory Book
Sharing stories about family and friends can be a great way for children to learn more about their family history and memories. With some paper, string, and crayons, children can put together their own memory album, just like Arthur did for his Grandpa, Dave. Ask your child what memories and events from this past year are most important to them.
◄ Back to News