CC's Weekly Blog
I Love You. Remembering Fred Rogers
by Charlotte Hansen
March 7, 2022
Hi, parents. Today's blog is all about remembering someone very special. For those of you who don't know, February 27 marked the 19th anniversary of Fred Rogers' death, and celebrated his contributions to children's television with his amazing show, "Mister Rogers' Neighborhood."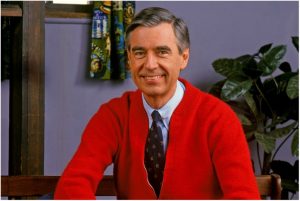 Many parents have grown up watching Mister Rogers and years later, have passed the lessons learned from the show to their own children. While a lot has changed since the show's last episode aired in August 2001, the ideas and lessons remain the same. Fred Rogers' belief that "you are special, just the way you are," is still practiced in many of the television shows that his company has produced since his death. With multiple television specials, a guest spot on "Sesame Street," and even a movie starring Tom Hanks, fans everywhere remember the gentle man with a big heart, who welcomed us into his neighborhood.
Important Memories from Watching Mister Rogers
When He Addressed Racism—1969 was a big year for Mister Rogers. Not only did he tackle his toughest audience yet (testifying in front of Congress), but he also addressed a very tough subject head-on. He invited his friend Officer Clemmons, an African American police officer, to share a wading pool with him on a hot day. This moment was a symbolic stand against racism, and informed children that police officers were there to help.
Parent Tip: Race and racism can be a tricky topic to talk with children about. It's important for kids to know that while society is still struggling with acts of racism, many people are working hard to influence change. Watch this video with your child to help facilitate an honest conversation about race and racism.
It's You I Like–During the show's run in the 1980s, a little boy named, Jeff Erlanger, came by for a visit, showing television friends everywhere how his wheelchair worked. He also spoke openly about his disability. He even sang a special song with Mister Rogers called, "It's You I Like," showing children everywhere that they are special no matter what.
Parent Tip: Watch this episode of Daniel Tiger with your child, which talks about Daniel's new classmate who uses braces to help her walk. Ask your child about the people in your neighborhood, and what makes them unique or different. Remember: "In some ways, we are different, but in so many ways, we are the same."
Meeting Koko the Gorilla–This late 1990s episode showed that Mister Rogers' influence stretched beyond human neighbors. Koko the Gorilla was a big Mister Rogers fan, to the point of memorizing his daily routine. From the opening song and using sign language, to communicate "I Love You" when she met him. Sign language has been a big part of the show since the 1990s, echoing Mister Rogers' desire to be accessible to all fans, no matter what species they are.
Parent Tip: Watch this video with your child and learn about the American Sign Language alphabet. Talk to your child about how everyone has their own way of communicating, both human and otherwise.
Meeting Arthur–When author Marc Brown visited Mister Rogers in 1999, it was shortly after "Arthur" went on the air in 1996. "Arthur" was in production at the time, and it was a huge hit with kids everywhere. Like Mister Rogers, Arthur did not shy away from tough topics; he also strived to avoid talking down to the audience. Mister Rogers had a lasting impact on Arthur; he even guest-starred on it in 1997! The 8-year-old aardvark and his friends have gone on to entertain countless children for the past 25 years.
Parent Tip: Check out "Mister Rogers' Neighborhood: A Visual History" from your local library. Learn how the show was made with your child, and about Fred Rogers's legacy of educational television programming.
Meeting Margaret Hamilton–To help parents show children that witches aren't scary, Mister Rogers invited "The Wizard of Oz" actress, Margaret Hamilton, to talk about her iconic role as, "The Wicked Witch of the West," in 1975. Kids learned behind-the-scenes stories detailing her adventures in making the movie, as well as, learning about reality vs. fantasy.
Parent Tip: You and your child can have fun together, playing pretend dress up with whatever items of clothing you have available. Playing pretend is a great way for children to learn empathy, just like Margaret Hamilton; this article shares seven ways for kids to learn empathy through acting.
◄ Back to News