January 22, 2019: SU Opera – Marriage of Figaro
by Diane Jones
January 22, 2019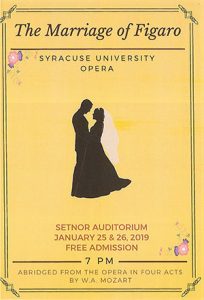 The Opera Theater at the Syracuse University College of Visual and Performing Arts is presenting the Marriage of Figaro this weekend.  Professor Eric Johnson, who is directing the production, along with Jacob O'Shea (Figaro) and Julia Clifford (Susanna), stopped into the FM studios to chat with mid-day host Diane Jones about the production.  We also talked about bringing opera into everyday life at a young age.
These students are well on their way to professional careers.  Jacob has sung featured roles in two productions with Syracuse Opera, as has Katherine Skafidas, who is singing the role of the Countess.
Information about this production is available here, including the link to the live stream of the performances.
◄ Live at WCNY - On the Radio