June 18, 2021: CMM Live! Young Artists
by Diane Jones
June 18, 2021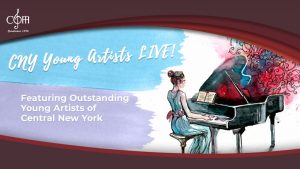 CMM Live! is presenting its Young Artists concert this weekend, virtually on YouTube.  Five of these talented young musicians, along with Ida Trebicka from CMM, joined mid-day host Diane Jones live in the studios to share some conversation and performances with us.
Thanks to Ida along with these musicians for their time and talents:
Rosee Head, violin
Kate O'Leary, flute
Hannah Swyuliski, soprano
Olivia Walberger, violin
Ebun Oguntola, composer/pianist
Learn more about Civic Morning Musicals here.
◄ Live at WCNY - On the Radio