CC's Weekly Blog
President's Day
by Charlotte Hansen
February 21, 2022
Hello again everyone, and Happy President's Day! Today is a special day here at PBS Kids! New episodes of "Arthur" and "Xavier Riddle and the Secret Museum" are coming out today, and there are plenty of President-themed activities for the history fan in your family.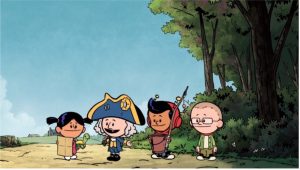 For those of you who have never seen or heard of "Xavier Riddle," it follows the adventures of Xavier Riddle and his friends, as they travel back through time and meet important historical figures, while also solving problems. Since it's President's Day, there is a new episode airing today about the importance of being a leader, as well as, honoring our first President, George Washington.
Xavier Riddle has also met many other historical figures including, Mister Rogers, Neil Armstrong, and even Teddy Roosevelt. In each episode, Xavier and his friends learn about important life lessons, while meeting impressive historical figures.
For many parents, politics can be a tricky topic to discuss at home. You know your child best; what they like, what they don't like, so no need to make it complicated. Explain to your child that while many people are happy with the current President, some are not, and that's okay.
Here's a list of several Presidential themed activities and videos from Xavier Riddle, as well as, other PBS Kids shows. Be sure to check out each activity with your child and have fun while doing it. And don't forget to take time out away from the computer screen.
Activities/Videos:
Arthur's Friends Imagine They are U.S. Presidents
Ask your child what they would do if they were President. What kind of laws would they have? Would there be any special holidays? How would they help people in need?
"I Will Make a Difference" Speech
Help your child write a speech for President's Day and ask them which leaders inspire them. Feel free to invite family and friends (in-person or virtually) to listen to your child's speech. If your child feels confident enough, video tape the speech so they can look back on it in 10 years.
Watch each of the videos with your child and encourage them to ask some questions. For parents who grew up with different Presidents, feel free to tell your child about what life was like then, and what has changed since those Presidents were in office.
What better way to celebrate our Founding Father than to visit his home? Or if you can't do that, visit the Mount Vernon website, and learn all about George Washington. Read the timeline of his life with your child and explore all the fun games that this website has to offer.
Help your child create a hero, presidential and otherwise! Talk to your child about what it means to be a hero and how these heroes helped make a difference in the world. While your child is making their own hero, ask what special things would help make their hero heroic.
◄ Back to News