CC's Weekly Blog
Q+A with Reading Buddies
by Charlotte Hansen
April 11, 2022
Hi parents! This week's article is going to be a bit different. Instead of writing a list of cool things to do with your children, I'm going to take you behind the scenes of, "The Reading League's Reading Buddies."
"Reading Buddies" follows the adventures of Dusty, Dott, and Alphabott, as Dusty practices letter recognition, phonics, and more!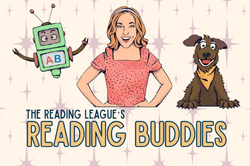 Toni Ann Walsh, Executive Producer of "Reading Buddies," has worked for the Reading League since May 2019, as the Chief Marketing and Development Officer. The Reading League is a non-profit organization that raises the awareness of reading literacy.
Interview
Charlotte Hansen: For someone who has never watched Reading Buddies, how would you describe it?
Toni Ann Walsh: Reading Buddies is a fun show that has its foundation rooted in the science of reading. The show teaches kids without them realizing they're being taught the foundations of strong reading. It covers everything from phoneme awareness, phonological awareness, and word decoding. All the fundamentals a young reader needs so they can be successful, can be found within the show.
CH: How did the show start? Who came up with the idea for it?
TW: The show was born due to COVID-19. When COVID first hit, Mitch Gelman, President and CEO of WCNY, approached us to assist with the reading components of WCNY's TV Classroom. Kelli Johnson and Katie Sojewicz, Staff Members of The Reading League, put together a half an hour reading classroom-style show. Once we started assisting, we learned that people liked and enjoyed it, and it was helping kids who were stuck at home while school was closed. Because of this, we started to look at avenues that could be more entertaining.
The filming of, "Reading Buddies," is not this huge production. It's only a couple of cameras. We were approached by a group called, "Dusty and Dott," two Broadway actors who were displaced by COVID. They came back to Syracuse to live with Dott's (Andrea Dotto's) parents. We happened to come across an article in the paper about the duo, and called them to see what could be. Through conversation and sharing of ideas, we thought this could be a really cool concept, creating a reading show with a true educational purpose. A show that is fun, entertaining, and exciting.
CH: Do you use any PBS Kids shows for inspiration when coming up with episode ideas?
TW: We joked when we first started, that we wanted to be the new Mr. Rogers. He was very influential on our education. What we loved about, "Mr. Rogers' Neighborhood," was that it was relatable. He talked at a level that kids could understand. He was gentle, and he was kind. He was also welcoming.
We took that approach while creating, "Reading Buddies." We wanted to have that same look and feel as, "Mister Rogers' Neighborhood." So, when someone watches it, they feel almost like they are being hugged, for lack of a better way to put it.
CH: Is it hard trying not to laugh off-camera (or on-camera) when funny moments happen?
TW: 1,000%. One thing we did not anticipate was how funny the kids would be. They had adlib one-liners that we couldn't laugh at, because we wanted it to be captured on camera. But behind the scenes, we're dying and getting goosebumps because we're laughing so hard.
CH: Without giving away anything, what can we look forward to for season two?
TW: We have new sets and new areas that our Alphabotteers will be having fun on. We have some new puppets that we'll be revealing over the next few months. The curriculum continues the pattern from season one, building upon those original reading concepts. There's a nice continuation of the curriculum.
Season Two of Reading Buddies will be airing again on WCNY-TV in September 2022!
◄ Back to News