Live At Noon
Bill Baker's "Live at Noon" is a live music and interview series that's aired on WCNY-FM since 2003. The show has featured, local, regional, national and international classical music performers, who join Baker in-studio for brief performances and conversations.
Show Archive
On Wednesday, Jan. 7, "Live at Noon" with Bill Baker featured The Neave Trio violinist, the joyful and talented Anna Williams. Anna chatted with Bill in anticipation of The Neave Trio performance on Jan. 11 for the Chamber Music Society of Utica. The interview was book-ended with excerpts of the Neave Trio recording of Fauré's Piano Trio in d, Op. 120.
January 7, 2015
Guitarist Stephen Brew talks with Bill Baker, and perfoms two musical works
November 14, 2014
World renowned violinist and Symphoria guest artist Elmar Oliveira
February 27, 2014
Eric and Anthony McGriff perform
February 12, 2014
Live At Noon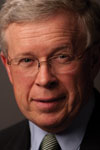 Bill Baker hosts WCNY-FM's midday program from 10 a.m. to 2 p.m. A native of Seneca Falls, Baker graduated from Marist College with a B.A. in French, and for 11 years, he was a high school French teacher.  He returned to the classroom as a student at the New York Institute of Technology in Old Westbury, N.Y., where he earned his Masters in Communication Arts and began his broadcast career.  His community efforts have been recognized most recently by Civic Morning Musicals in Syracuse for his commitment to local artists and composers; and by such organizations as the Red Cross of Central New York Blood Services, Success By 6 and Contact of Syracuse. He has also received awards from the Syracuse Ad Club and New York State Associated Press.