Losing Ground: The Race to Preserve War of 1812 Battlefields in New York state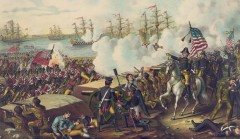 WCNY brings together some of the nation's foremost experts on the War of 1812. They help frame this chapter in our state history and reflect on why is it so important to preserve these sites for future generations.
Walk through the hollowed grounds of these sites with some of the country's top battlefield archaeologists. Their insights into the invisible secrets hidden just below the surface of the front lines are part of the knowledge that will help safeguard and preserve significant American battlefield lands in New York.
From Oswego to Plattsburgh and Ogdensburg to Sackets Harbor, WCNY interweave the dramatic stories of America's second Revolutionary War with the modern-day experts who are working to keep history alive.
Updating...
Your shopping cart is empty
Visit the shop