CC's Weekly Blog
STEAM in SYRACUSE
by Charlotte Hansen
February 28, 2022
Calling all Syracuse parents! If you live within the city of Syracuse, this blog is for you. This past week, WCNY delivered PBS STEAM Kits to all nine Syracuse City Libraries. If you have a child 4-8 years old at home who likes exploring and creating, stop by one of the city branch libraries listed at the end of this article to pick up a kit.
The kits feature multiple activities, some of which feature materials you can find at home, such as cardboard boxes, markers, and other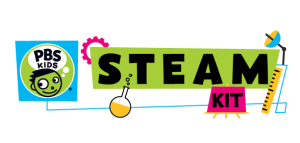 household items. From building a robotic arm with Ready, Jet, Go!, to having your child use their imagination to create something cool with Scribbles and Ink, each activity represents a letter of S-T-E-A-M and features PBS KIDS shows.
All the kits have the instruction pages in them, along with markers, colored pencils, a small notebook, a pencil, four 10-inch pieces of yarn, and a piece of cardboard. If you have more than one child in your household, don't worry. The activities are also featured on the WiCkNeY Kids' "Kids Activity" section of this website, so that everyone can participate.
And parents, don't forget to join in on the fun with your child! You can ask questions to help guide your child's learning, while they take the lead. If they make a mistake, it's okay. After all, we were all young once! So, now I'm off to build a rocket ship from a recycled cereal box, and enjoy a few episodes of, "Ready, Jet, Go!"
North Side
South Side
East Side
West Side
Downtown
One more side note: You may want to call before making the trip, to make sure kits are still available.
Other Cool STEAM Activities
Parent Tip: What better way for kids to learn about space than to go check out NASA's Kids website. There are a lot of cool activities and games for kids of all ages, and historical facts about NASA missions, past and present. If you grew up with the Apollo missions or any shuttle missions, tell your children (or grandchildren) about that! I remember getting so excited asking my parents about what they remembered about the Apollo missions.
Parent Tip: Talk to your child about how food can change once cooked. Ask them what they think will happen to each of the popcorn kernels and why. Don't forget to make some popcorn as a yummy snack!
Parent Tip: Help build a fun obstacle course with recycled materials found around the house! Ask your child what each object is used for, and how it can help the ball get from point A to point B. And don't forget to snap a photo or take a video of the final product!
Paint the View from Your Window
Parent Tip: Have your child draw the view from their window, or their favorite place! Ask them what objects are most important to them from this place. Don't forget to include color!
◄ Back to News