Connect Card Partner
---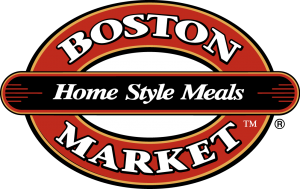 Boston Market
 Buy a meal and a drink, and get a meal free
Destiny USA,9090 Destiny USA Drive, Syracuse, NY, Onondaga County, United States
(518) 330-7921
Hours:
Mon. – Sat. 11:00 a.m. to 9:30 p.m.
Sun. 11:00 a.m. to 6:00 p.m.
---
$$$$ Since 1985, tender rotisserie chicken, good service, and community responsibility has defined Boston Market's focus on great comfort food. The restaurant is located in the food court of Destiny USA, the chain's first-ever food court location, giving mall-goers a place to grab a quick, quality bite to eat after a long shopping spree. From sandwiches and salads to hearty market bowls, the menu features Boston Market's famously delicious hand-carved meats in many of its meals. Whether it's rotisserie chicken carved right off the bone, or tender, rotisserie roasted turkey sliced to order; you'll find nothing but the signature quality you've come to expect with speedy service.
---
From The Menu – A sampling
BBQ Ribs
Seasoned and slow-roasted for hours, the meaty BBQ ribs are prepared with a special blend of herbs and spices, and slathered in a sweet, peppery, kettle-cooked BBQ sauce.
Turkey Pot Pie
A savory blend of roasted turkey breast mixed with tender vegetables and a touch of cream, covered in a flaky crust, and baked to perfection. Served with a side of cornbread.
Apple Pie
Nothing's sweeter than apple pie made with Granny Smith apples and cinnamon, topped with a tender, flaky crust.
Rotisserie Chicken
Farm fresh and never frozen, the all-natural chicken is marinated in garlic and herbs, and rotisserie roasted to perfection.