Connect Card Partner
---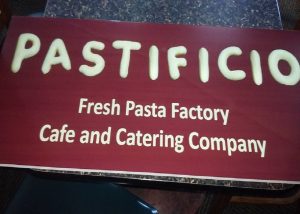 Pastificio
 2-for-1 entrée
 210 Brooklea Dr., Fayetteville, NY, Onondaga County, United States
 (315) 632-4560
Hours:
Mon. – Thu. 8 a.m. to 8 p.m.
Fri. & Sat. 8 a.m. to 9 p.m.
Sun. 8 a.m. to 3 p.m.
---
$$$$ Pastificio – The Fresh Pasta Factory and Catering Company.
Experience a vast menu and a made-from-scratch operation. All pastas and meats are prepared fresh and in-house every day. Food is fast, convenient, and competitively priced.
Create your own pasta dish from the Pastificio fresh factory pasta menu! Pick your pasta, sauce, protein, and vegetable for a delicious pasta dish straight from your imagination! Or try one of the fabulous daily speacials – from Breakfast Burger Sundays to Pasta Pie Thursdays, Pastificio offers great daily specials
And remember – you can enjoy professional catering and party planning services for any occasion from Pastificio! From corporate luncheons to graduation parties, Pastificio will make it an event to remember!
---
From the Menu – A sampling
Build Your Own Pasta Creation
The combinations and choices are endless!
Pick your pasta, choose your sauce, add some meat, veggies and cheese. Gluten free options are available, too!
Breakfast Sandwich
Fresh cured bacon, smoked ham, or house made sausage with egg and cheese on your choice of fresh bread.
Utica Pasta Omelet
Homemade pasta, fresh greens, cherry peppers, and prosciutto in an Asiago egg omelet w/ melted mozzarella.
Italian Wedge
Salami, prosciutto, honey ham, and Aged Provolone on a toasted Italian wedge of bread with roasted red pepper and Kalamata relish.
House Bracciole
Thinly pounded sirloin stuffed with layers of meats and cheeses. Simmered in sauce and served over pasta.
Lobster Mac and Cheese
Fusilli with Maine lobster in a creamy cheese sauce