Connect Card Partner
---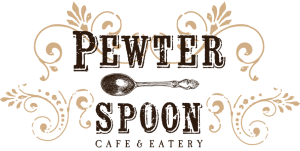 Pewter Spoon Café
 2-for-1 entrée
 87 Albany St, Cazenovia, NY, Madison County, United States
 (315) 655-5554
Hours:
Mon. – Sat. 7:30 a.m. to 8:00 p.m.
Sun. 7:30 a.m. to 3:00 p.m.
---
$$$$ Pewter Spoon, on Albany Street in beautiful Cazenovia , is all about supplying its patrons with "a darn good cup of coffee", but one cannot live on great coffee alone. As a result, the Café put together a menu that appeals to a variety of tastes and dietary needs, including vegetarian, vegan, and gluten free options. The atmosphere is warm, comfortable, and welcoming. It's a place to chat, catch up on work, meet your book club, and get your two minutes on a soapbox to let others know what you think – all in a friendly and tolerant setting.
---
From the Menu – A sampling
Breakfast Burrito
Scrambled eggs, black beans, salsa, and cheddar all rolled up in a flour burrito.
Mediterranean Plate (v)
Homemade hummus, stuffed grape leaves and Kalamata olives (vegan).
Chipotle Turkey
In-house roasted turkey with chipotle mayo, bacon and cheddar, served in a Panini.
Chicken Caesar
Crisp romaine, tomato, parmesan cheese, and grilled chicken served in a wrap.
Italian Market Salad
Tomato, roasted red peppers, artichoke hearts and fresh mozzarella tossed in Italian dressing.
Cheese Platter
A selection of local and imported cheeses served with apples.