Connect Card Partner
---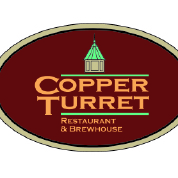 The Copper Turret
 2-for-1 entrée
 17 W Main St, Morrisville, NY, Madison County, United States
(315) 684-6699
Hours:
Tue. – Thu. 11:30 a.m. to 9:00 p.m.
Fri. & Sat. 11:30 a.m. to 10:00 p.m.
---
$$$$ The Copper Turret Restaurant, located in the heart of Morrisville, was originally built in 1814, featuring unique design features. It has been lovingly renovated to showcase these original design features and complimented with copper accents. The popular eatery prides itself on a delicious and innovative menu featuring fresh, local ingredients, an extensive beer selection, and is home to Morrisville State College's Culinary and Hospitality Programs, allowing students to gain real-world experience. The menu features salads, starters, soups, sandwiches, burgers, and other delectable entrees so stop in and enjoy a delicious meal in a historical building.
---
From the Menu – A Sampling
Pepper Jack Burger
Custom ground New York State beef with hickory smoked bacon, pepper jack cheese, batter dipped onion ring, and jalapeno pepper jam.
Turkey Club
House roasted turkey, aged cheddar, hickory smoked bacon, romaine hearts, and tomatoes with cranberry mayonnaise on house-made torta bread.
Chicken Penne
Penne pasta, grilled chicken, roasted red peppers, cherry peppers, and a marinara cream sauce.
Country Pot Roast
Tender braised beef, butter cream whipped potatoes, vegetables, and sweet onion demi-glace.
Steak Frites
Marinated, grilled skirt steak topped with black garlic demi-glace and served with garlic matchstick fries and sautéed vegetables.
Grilled Salmon Filet
Miso glazed salmon, chef's pilaf and orange fennel slaw.