WCNY 1000
WCNY invites the community to support its  WCNY1000 campaign, a campaign to encourage those who have never supported WCNY to become members and those who have let their support lapse rejoin the WCNY family.
This important initiative uses all WCNY media platforms including TV, radio, the website, The WCNY Magazine and social media to encourage membership.  Membership dollars will help WCNY close its budget gap and ensure programming and services now, and for future generations.
Why you should support WCNY and become a member:
WCNY is Central New York's only community-owned public media company
Programming reaches 1.9 million viewers in 19-counties in Central New York
The WCNY Broadcast and Education Center is cutting edge, filled with new technology, programs and services for the community
PBS is the most trusted news source
Pledge-free programming means interruption-free programming
Since 2007, WCNY is the only station in the country that has stopped interrupting programming to raise money on air.
WCNY has added more than 330 hours of additional programming
While pledge breaks were a major revenue source for WCNY, new entrepreneurial efforts bring additional revenue to the organization in other ways coupled with aggressive promotion of all WCNY media platforms including television, radio, print (The WCNY Magazine), a weekly e-guide full of programming and upcoming events and social media efforts that have allowed the company to remain strong today without regular television programming interruptions
Other revenue generators include Centralcast, LLC, Enterprise America, WCNY's venue rental, The WCNY Café, and a strong commitment to underwriting from area businesses
Basic Membership $52 + ($35 for seniors/students/military)
A bi-monthly subscription to the WCNY Magazine
Access to Classic FM's HD online stream
Family Membership $72
All Basic Membership benefits plus
WiCkNeY Kids Dining and Attractions Discount MemberCard
Subscription to Highlights Magazine
Full Membership $100
All benefits from the Basic Membership plus
WCNY Dining and Attractions Discount MemberCard
Premium Membership $250+
All benefits from the Full Membership plus
Exclusive Opportunities, including tickets to private WCNY events and unique recognition in our station and on-air
 Leadership Contributor $1,000+
All benefits from the Premium Membership
Support WCNY, Central New York's public broadcasting company, by filling out the form below or call (315) 453-2424.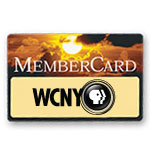 With a WCNY MemberCard, you can save at hundreds of local and online merchants while raising needed funds for quality WCNY programming.
Two-for-one dining at great area restaurants
Savings on goods and services at more than 1,000 online merchants like Best Buy, iTunes, Target and Barnes and Noble
Discounts on lodging and attractions
Three additional  MemberCards to travel with
Support WCNY with a $100 level membership or higher and you'll get a WCNY MemberCard full of great discounts!
To support WCNY with a $100 level membership or higher, fill out the form below: