Travel Auction Donors: Multi-channel marketing is driving interest to your property!
---
[jbutton color="blue" size="medium" link="http://www.wcny.org/travel2016/"]Back to Main Donor Page[/jbutton]
Daily Radio and TV promotions
RADIO Live-read and prerecorded radio promos reaching a regional broadcast audience in 19 central New York counties and parts of Canada, plus an active digital listenership worldwide.
TELEVISION Heavy rotation of 5 TV promos across 4 channels for four weeks prior to auction and during the two week prime auction period reaching a potential audience of 1.8 million viewers.
---
Out of Home – Billboards
2 Bulletin (full size) billboards on Interstate routes 690 and 81 providing combined 122,500 views per day / 3.675 million views total.
---
Print Advertising
Syracuse New Times reaches 81,000+ readers
---
Digital Advertising
Syracuse Media Group: Digital Sliding Billboard, delivered 227,423 times, click through rate of .12% performed well above benchmark rate of .06%.
---
Direct mail
Promotional postcard mailed to 3,300 active travel auction buyers.

---
Editorial
Full page feature article in WCNY Connect Magazine, a bi-monthly member subscription publication mailed to approximately 14,000 households.
Listings in community publications and calendars across our service area.
---
Social
Continual use of Twitter, Facebook and Google AdWords during the month preceding and the weeks during the auction.
---
On the Web
Premiere promotion on wcny.org (average of 12,000+ page views per month) in the weeks leading up to and during the auction.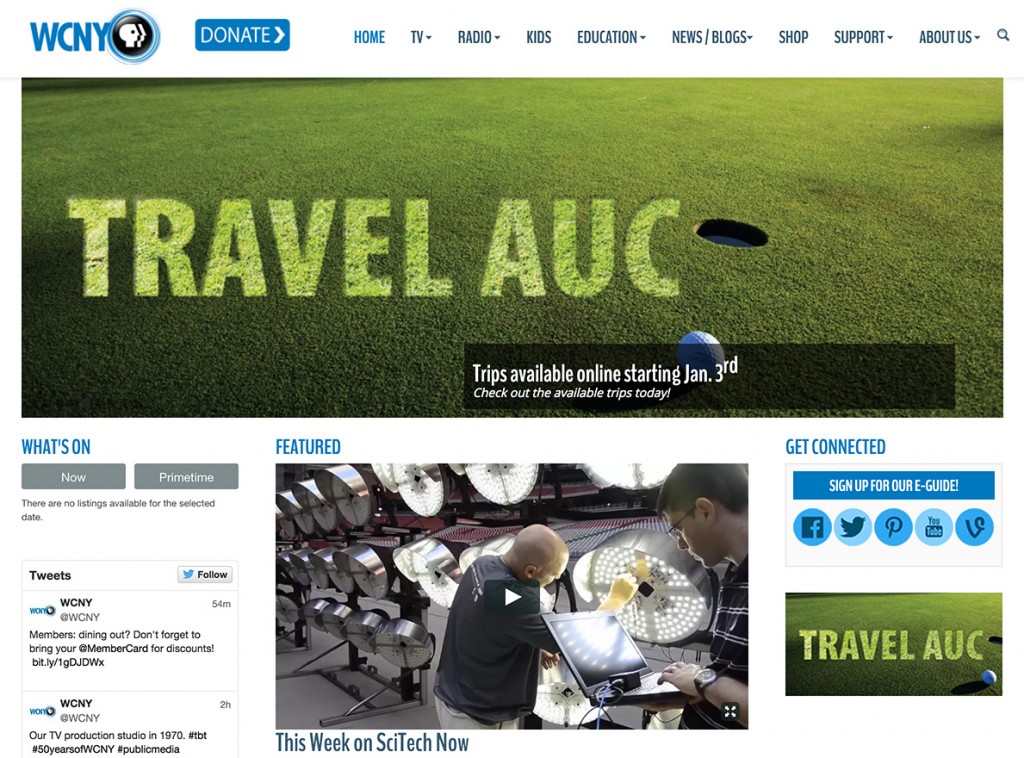 [jbutton color="blue" size="medium" link="http://www.wcny.org/travel2016/"]Back to Main Donor Page[/jbutton]