TravelAuc2021
Get the word out your business is open and welcoming guests back…showcase your property on TV and online!
Your trade of a travel package gets you amazing promotions
TV and Online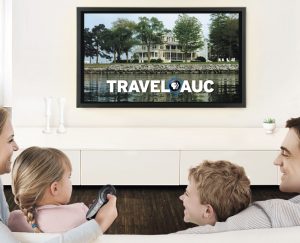 Your property exposed to 1.8 million TV viewers and global online audience at wcny.org/travelauction.
Showcased spots are broadcast on our TV station and will be listed online along with a hyperlink to your property website.
---
Benefits of participating:
Showcase your property to a highly desirable market sector – the PBS viewer
No cash outlay and no production costs for promotional airtime
Increase visibility of your property's branding
New guests, who may book additional nights, return for visits and pass on word-of-mouth referrals to family and friends
Tax-deductible contribution, if appropriate
Based on the value of your travel package, please consider with the following:
To maximize interest in your travel package, due to the distance of your property from Central New York, please consider:
Northeast States & Canada: 2 or more night stays
Southeast, Central, Mountain & Pacific States: 3 or more night stays
Caribbean & other International Properties: 4 or more night stays
Get Started!
Review the Marketing Guide and choose how much promotion you would like to receive.
Complete the Travel Auction Participation Formand upload your Gift Certificates (or gift letters or vouchers) or mail Gift Certificates to: WCNY, 415 W. Fayette St., Syracuse, NY  13204. Participation Form
Send your property photos & logo to auction@wcny.org (suggest 6-10 photos in JPG or PNG format – 1920 x 1080 pixels). If your property participated in Jan. 2020 or 2019, we have a promotional video on file and can send it to you for approval. Send request to auction@wcny.org.
If you have questions or need assistance, please email auction@wcny.org
Thank you! Your participation in Travel Auction helps us fulfill our mission to the community as a 501(c)(3) organization and affiliate of PBS and NPR. Revenue from the Travel Auction is used to provide high-quality services and programs to the communities we serve.
Professional Production

For ZERO cash outlay!

How it works:

For your gift certificate(s) for a stay of two or more nights, you'll get:

Custom TV promotional spot (See sample promotions below)
Your spot broadcast on TV & listed online at wcny.org/travelauction
Link to your website

Give more, get more exposure. For multiple certificates, we'll air the promotional spot multiple times.

Additional promotional benefits based on the value of your certificate

Print

Property name and location included in participation list in March 2020 WCNY CONNECT Magazine mailed to ~15,000 member homes.

Click on the image to enlarge.

Radio

Radio Promotion: Live mention on
Classic FM Travel Auction segment

Social

Tag on one Facebook post (20,000 + followers)

Digital

Custom ad in WCNY e-Guide (20,000 subscribers)
Sample Videos
Testimonials
Our partners say it best
Jim Marquardt, GM, The Gardens Hotel & Cottages, Key West, FL:
We proudly support Public Broadcasting and have participated in WCNY's Travel Auction for several years now. Face it, when you need a break and Key West calls, The Gardens Hotel is the best place to leave the world behind and live the salt life. NY Times named The Gardens Hotel The prettiest Hotel in Key West.
Connie Puga, General Manager Empire Suites and LELUX Hotel, Montreal
I've been participating in your auction for a few years now and will continue to do so as you are great people to work with and love your programs.
Rick & Laura Carro, Innkeepers, Fairville Inn Bed & Breakfast, Chadds Ford, Pennsylvania
We are devoted fans of PBS and NPR wherever we have lived and traveled.  We are proud to again donate to WCNY's Travel Auction to support Public Broadcasting. We invite you to visit our B&B in a special cultural place in Pennsylvania.    
Don Voss, VP Hotel Sales & Marketing, Treasure Island, Las Vegas:
"Participating in WCNY's Travel Auction provides us the unique opportunity to both promote our resort to existing potentially new customers in upstate New York, as well as support public television."
John and Gwen Pittman, Resident Managers, The Green Iguana Hotel, St. Thomas, USVI:
"Participating in WCNY's Travel Auction…Is a Win-Win-Win for us! First and foremost, we love supporting PBS broadcasting. Second, we market The Green Iguana Hotel to a very responsive audience, AND a lucky couple discovers a unique way to explore the Caribbean!"
All this for ZERO cash Outlay
Yes, you read that right.
Not. One. Penny.
Questions? Call us at 315-385-7381.
---