The 46ers is a feature film that captures the imagination and inspiration of those who make scaling the 46 Adirondack Mountain High Peaks in northern New York State a life-changing experience in their lives.
The film provides an introduction to the men and women of the Adirondack 46ers Club, a group that supports the hiking of the high peaks in summer and winter from places such as Mount Marcy, the place from which Director Blake Cortright drew inspiration for the film.
As spectacular as the vistas are as seen atop 19 of the High Peaks including Cascasde and Porter, so are the moving stories of individuals who set out to move through the mountains at paces that range from intense to gentle. The result: memories and stories that last a lifetime, including those of Pete Fish, who hiked Marcy, the highest peak in New York, more than 700 times and Ron Konowitz, the first to ski all 46 High Peaks.
Follow the stories of ordinary men and women who have done the extraordinary. What draws these people?  It is not all beautiful views and comfortable conditions, because climbing these mountains is tough. The journey can be treacherous, even life threatening; yet these individuals persevere.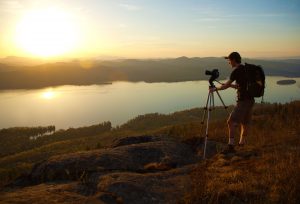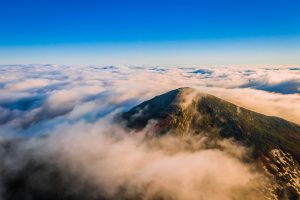 Production Support Provided By:
Additional Support Provided By:
Blake's passion for telling stories through film began while watching "The Ten Commandments" at age five. Impressed by the grand, sweeping cinematography, it still influences his work today.  Since childhood, Blake has spent a week every summer at Silver Bay, New York State's premier YMCA camp, located on the shores of Lake George in the southern Adirondacks. It was here Blake did his first simple hikes, which stirred his love for the mountains. He earned the rank of Eagle Scout at age 14.
In 2010, while still in high school, Blake produced The First Encampment, his first televised documentary, about the first Boy Scout camp in America, located at Silver Bay in Lake George, NY.  It aired on PBS television stations across upstate New York and was released on DVD, receiving much acclaim from scouts and outdoor enthusiasts of all ages. Blake went on to intern at a PBS-affiliated station where he was a crew member for several other documentaries. In 2015, Blake graduated from Regent University with a Bachelor's degree in Cinema and Television.
Check out these behind-the-scenes photos below!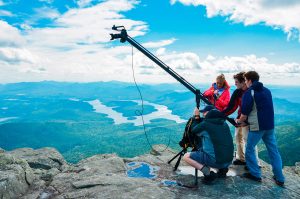 In July of 2013 the crew of "The 46ers" took a camera crane to the summit of Whiteface Mountain to capture one of the documentary's most iconic images. They were initially met by fierce winds and thick clouds atop the mountain, but after a short wait, the clouds blew away revealing blue skies and an incredible view of the Adirondacks and Lake Placid. The production crew coordinated with a group of hikers and filmed them as they summited the peak. They captured the iconic shot of a hiker looking out over the landscape, this was the image which Director Blake Cortright saw in his head when he first thought of making a documentary about the High Peaks.  Crew in the photo from right to left: Director Blake Cortright, Cinematographer Matthew Elton, First Assistant Camera Allison Zdunczyk, and Producer John Cortright.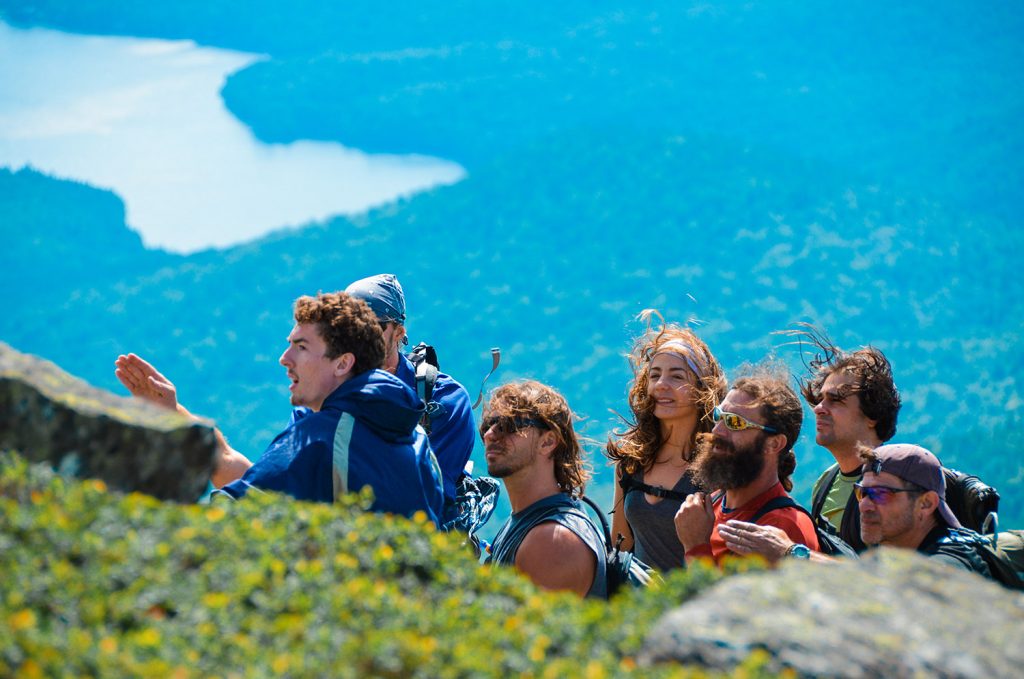 Blake Cortright [L] directs a group of hikers near the summit of Whiteface Mountain in July, 2013 after staging the film crew with the camera crane further up the peak. Throughout production, the film crew would be accompanied or followed by a group of hikers who patiently waited during the stop-and-start rhythm of production. The camera crew would hurry ahead of the hikers, who waited out of sight further up or down the trail, set up their cameras as Blake would direct the hikers and camera crew. Once the shot was complete, sometimes after multiple takes, the camera crew would pack up and once again hurry ahead of the hiking group. Though not every shoot followed this rhythm, the camera crew became increasingly efficient which each hike and managed to capture some incredible images under difficult shooting conditions.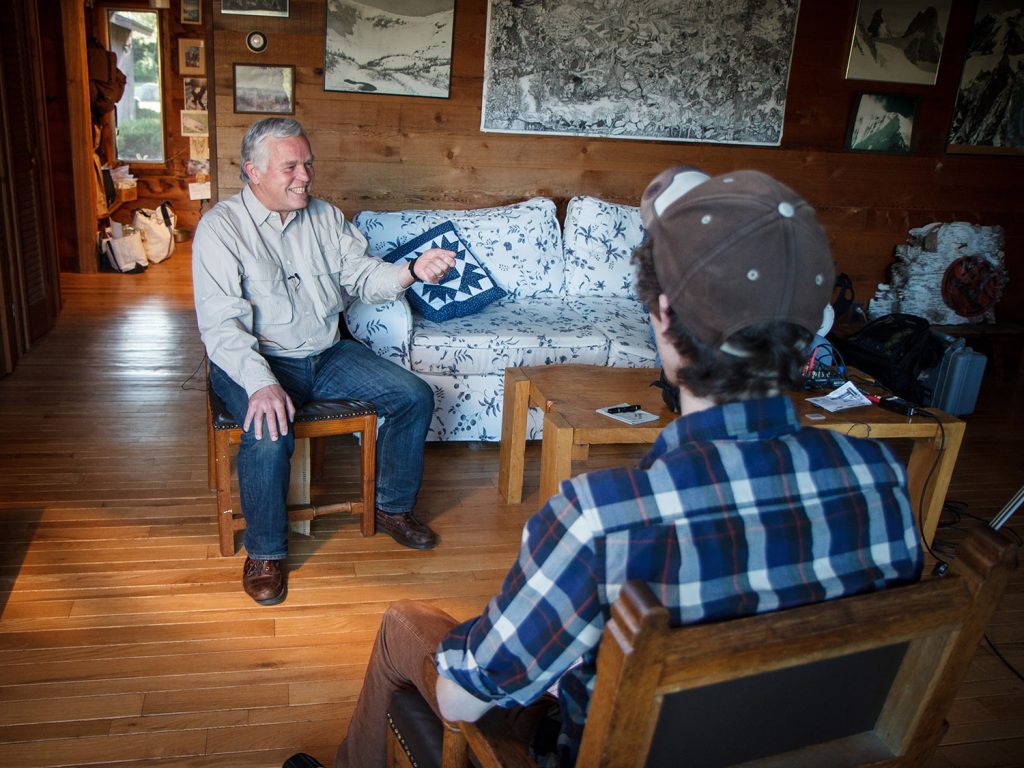 Director Blake Cortright [R] interviewing Tony Goodwin [L], editor of the Adirondack Trail Guide for the High Peaks region, in his Adirondack home. Tony proved to be a wealth of information, stories, and personality. The film crew used the same lighting and camera setup for all of the indoor interviews to maintain a consistent visual aesthetic which reflected the tone and themes of The 46ers.  Crew on location not pictured: Cinematographer Matthew Elton, Producer Connie Cortright, and Sound Recordist Thom Riley.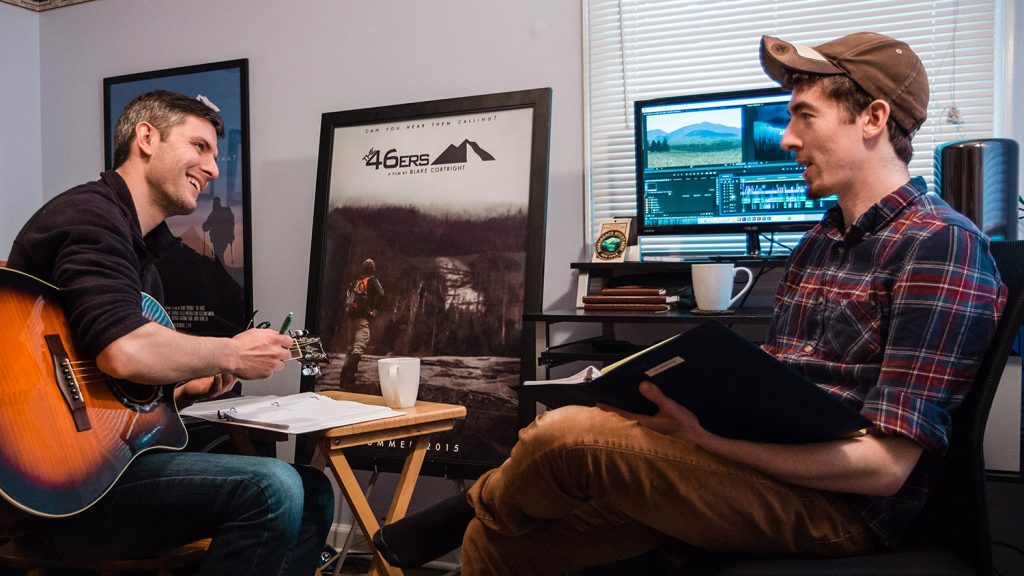 In March of 2015, after two years of collaboration on the music of The 46ers, Composer Justin Michael Brittain [L] and Director Blake Cortright [R] met for a formal spotting session on the fine cut of the documentary. They previewed the entire movie, taking notes all along the way, then proceeded to re-watch multiple sections of the documentary throughout the day making more detailed notes and discussing the musical world of the film. Justin would frequently play melodies and motifs on the guitar to explore the musical themes which would come to shape The 46ers. Though countless hours of work lay ahead, Blake and Justin concluded the spotting session feeling confident in the direction of the musical score and Justin began the long process scoring and refining the music.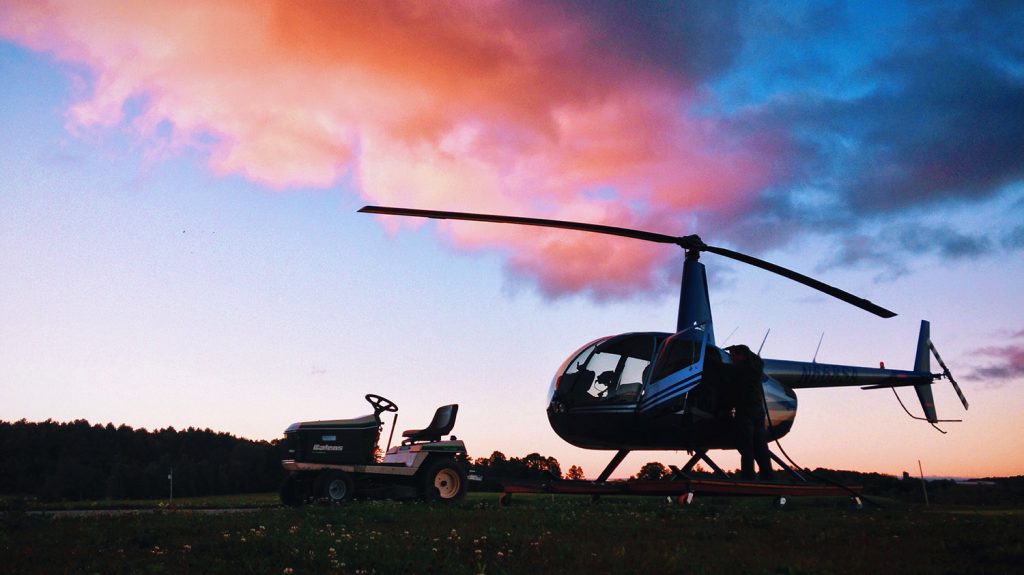 Processed with VSCOcam with k3 preset In September, 2014, after nearly two years of production, The 46ers still needed one essential element before moving to post production: aerial photography. From the moment Blake imagined a film about the High Peaks, he imaged cinematic aerial video of the region. For the initial promotional pieces used for crowdfunding in January, 2013, the crew had made use of stock footage, but the young director wanted something fresh which was more consistent with the imagery of the documentary.  On an early September morning, that dream became a reality. Blake met with aerial pilot Bruce Mowery and aerial cinematographer Gary Sears before sunrise in Fort Ann, NY to make final preparations for their morning flight. Blake snapped this shot of the helicopter set against the colors of sunrise shortly before the crew took flight. They filmed in the morning and again around sunset, and the gorgeous images they captured are some of the most iconic in a film already full of beautiful cinematography.
WCNY, Syracuse
Monday, Nov. 13 at 8 p.m. on WCNY-TV.
Sunday, Nov. 19 at noon on WCNY-TV.
Tuesday, Nov. 28 at 1 p.m. on WCNY-TV.
Monday, Dec. 11 at 9 p.m. on WCNY-TV.
Monday, Jan. 8 at 10 p.m.
WCFE – Mountain Lake
Wednesday, Nov. 29 at 8 p.m. on PBS
WNED – Buffalo
Monday, Nov. 20 at 10 p.m.
Saturday, Nov 25 – 3 am
WPBS Watertown
Monday, Nov. 13 at 9 p.m.
WBRA Blue Ridge PBS in Roanoke, VA
Wednesday, Nov. 15 at 3 p.m.
Sunday, Nov. 19 at 4 p.m.
WXXI Rochester
Monday, Dec. 4 at 8 p.m.
Sunday, Dec. 10 at 1 p.m.
CPTV – Connecticut
Monday, Nov. 27th – 9 pm CPTV-Spirit
Wednesday, Nov. 29 – 1 am CPTV-Spirit
Wednesday, Nov. 29 – 8 am CPTV-Spirit
Thursday, Nov. 30 – 4:30 pm CPTV-Spirit
WMHT – Albany, NY
Friday, Dec. 8 at 8 p.m.
Saturday, Dec. 9 at Noon
Sunday, Dec. 10 at 4 p.m.
Monday, Jan. 1 at 4:30 p.m.
Maryland Public Television
Tuesday, Dec. 5 at 8pm on MPT2
WGBY – Springfield, MA
Wednesday, Dec 13 – 8 pm WGBY 57-HD
Wednesday, Dec 20 – 6 pm WGBY World
SCETV – South Carolina – ETV World channel
Sunday, Nov. 19 at 7 a.m.
KQED – San Francisco, CA
Wednesday Dec. 6 at 11 a.m. on KQED Plus
WITF – Harrisburg PA
Sunday Nov. 19 at 2:00 p.m.
KCPT – Kansas City MO
Monday Nov. 20 at 7 p.m. (On 19.2 channel)
Tuesday Nov. 21 at 1 a.m. (On 19.2 channel)
Sunday Nov. 26 at 5 a.m.  (On 19.2 channel)
WFYI – Indianapolis IN
Monday Nov. 20 at 8 p.m. on WFYI-3  (20.3) channel
WIPB – Muncie IN
Thursday Nov. 16 at 10 p.m.
WFWA PBS39 on 39Explore 39.4 – Ft Wayne
Friday Nov. 17 at 9 a.m. and 2 p.m.
WKAR-World channel 23.2 – East Lansing MI
Sunday Nov. 19 at 5 p.m.
Maine PBS
Tuesday Dec. 12 at 9 p.m. on MPT-HD
WSKG – Binghamton, NY
Monday, Jan. 29 at 9 p.m.
WQED – Pittsburgh, PA
Thursday, Jan. 4 at 10:30 p.m.
OPB – Oregon Public Broadcasting
Sunday, Jan. 21 at 6 p.m. on OPB Plus
Monday, Jan. 22 at 5 a.m. on OPB Plus
KSMQ, Austin, MN
Monday, Jan. 1 at 7 p.m.
Wednesday, Jan. 3 at noon
Sunday, Jan. 7 at 4 p.m.
KNCT – TV – Central Texas College, Killeen, Texas
Thursday, Jan. 25 at 9 p.m.
WCTE in Cookeville, TN
Tuesday, Dec. 19 at 10 p.m.
KAWE – Lakeland Public Television in Bemidji, MN 
Monday, Dec. 11 at 9 p.m.
Vermont PBS
Sunday, Dec. 10 at 2 p.m.
WGCU – Fort Myers, FL
Saturday, Jan. 20 at 7 p.m. on WGCU Create/Encore
KCTS – Seattle
46ers Monday, Jan. 15 at 3:01 a.m.
WCFE – Mountain Lake PBS – Plattsburgh, NY
46ers Sunday, Dec. 17 at 2 a.m.
Thursday, Jan. 4 at noon.
WGBY Springfield, MA
Thursday, Jan. 8 at 8 p.m. on WGBY World.
WLIW-21 – New York City, NY
Thursday, Jan 18 at 2:00 p.m.
WEIU – CHarleston, IL 
Sunday, Jan. 7 at 6 p.m.

WTCI – Chattanooga, TN 
Monday, Jan. 8 at 10 p.m.

WHYY – Philadelphia, PA 
Friday, Jan. 12 at 2 p.m.

WPBT-2   – South Florida – Miami, Ft Lauderdale, West Palm Beach
Friday, February 2nd at 4 am.