Double Down
Double Down is WCNY's award-winning high school academic quiz show. Students face challenging questions on science, math, literature, current events and other topics, and the three-member high school teams compete for prizes and bragging rights.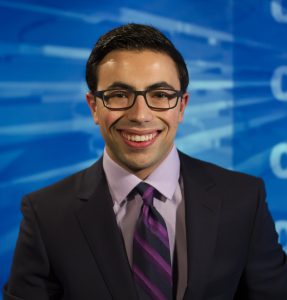 Noah Eagle
Noah Eagle is a junior Broadcast and Digital Journalism major at Syracuse University. He is from Essex Fells, NJ. Noah has two loves in this world – sports and entertainment. Monday nights are filled with switching between Monday Night Football and The Bachelor. Noah is on the sports staff at WAER and WJPZ at SU, and is heavily involved at CitrusTV, Syracuse's student run television station. Noah hopes to bring his fun, energetic personality to the Double Down team.
October 13 was Double Down Qualifying Day.  Congratulations to the 16 high school teams who will move on to play single-elimination televised matches!  The teams are:
Bishop Ludden
Chittenango
Cooperstown
Fayetteville-Manlius
Geneva
Homeschoolers of CNY
Jamesville-DeWitt
Laurens
Marcellus
Moravia
New Hartford
Proctor
Union Springs
Vernon-Verona-Sherrill
Westhill
Whitesboro
Note to the 16 teams:
Team advisors will be notified of the dates and times of their first matches on Monday, October 15.