Erie Canal Minutes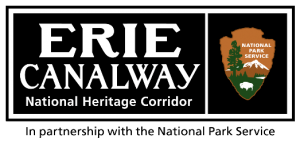 As New York's Erie Canal approaches the bicentennial of its opening in 1817, WCNY, with support from the Erie Canalway National Heritage Corridor, traveled the world's most successful canal to explore the waterway as it is today. Along the way we met people who use the canal in a variety of ways and invited them to share their stories. It is these stories that make up the seven Erie Canal Minutes (actually each 90 seconds in length) found on this page. As you watch and listen to these minutes, it is evident that this national historic treasure is very much alive and well!
The seven minutes are:
A Tradition of Service
The Canal's locks are a constant source of fascination for young and old. The lock-tenders responsible for maintaining and operating the locks are a wealth of information about the Canal, past and present. At Lock 22, not far from Rome, John Matt III, chief lock operator, shared how he is the most recent of several generations of his family to work on the Canal and what that means to him.
Canal Cruising
The Canal's primary function today is as a recreational waterway. Boats of all sizes and shapes enjoy its tranquil waters, including the specially designed ships of a Rhode Island cruise line whose captain explains what makes boating on the Canal so unique.
Still Shipping
The Erie Canal began as a commercial shipping route but railroads and later trucks traveling routes like the New York State Thruway, became the preferred, more cost-effective means of transporting commercial goods. But cargo, sometimes quite unique, is still shipped on the Canal, as a visit to a Troy shipping company reveals.
Hydropower
When traveling the Erie Canal boaters are often surprised to see adjacent dams and power plants, some of which are generating hydroelectric power, as WCNY discovered during a visit to the New York Power Authority's Crescent Plant near Albany.
Canal Crop Irrigation
Agriculture is New York State's #1 industry, and the Canal is a source of water for irrigation for farmers, including the Hurd Family, whose farming roots along the Erie Canal date back to the 1830s. Today, water from the Canal irrigates the family orchards.
Canalside Recreation
The original Erie Canal required the clearing of land for a path — a towpath — for the horses and mules that pulled or towed the Canal's 19th century flat-bottomed boats. The horses and mules are gone, but not the towpath, which is now used by walkers, hikers and bikers.
Good for Business
Communities like Fairport and Pittsford, both near Rochester, have long recognized the economic development opportunities the Canal offers. Now Buffalo is redeveloping its Canal waterfront, generating jobs and new businesses to serve both residents and tourists.