Feminine Fusion
April 29, 2018: Paris in the Spring
by Diane Jones
April 23, 2018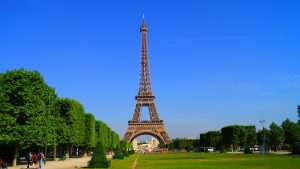 "An artist has no home in Europe except in Paris." – Friedrich Nietzsche
It's springtime – what better reason to visit Paris!  Let's take a listen to music by women performing and composing in the city of love.
"Paris in the Spring"
Lili Boulanger:  D'un soir triste (Of a Sad Evening)
The Women's Philharmonic; JoAnn Falletta, conductor
"The Women's Philharmonic"
Koch International 7169
Elisabeth Jacquet de la Guerre:  Céphale et Procris (ballet music)
Frances Conover Fitch & Peter Sykes, harpsichords
"Protégée of the Sun King"
Centaur 2781
Louise Farrenc:  Etude
Margot Dilmaghani, piano
"Celebration!"
Independent Label
Isaac Albéniz:  Almeria (from Iberia)
Hélène Grimaud, piano
"Water"
Deutsche Grammophon 4795268
Eric Korngold:  Concerto in One Movement for Cello and Orchestra, Op. 37
Ophélie Gaillard, cello
Orchestre Philharmonique de Monte-Carlo; James Judd, conductor
"Exiles"
Aparté AP142
Marcel Landowski:  Concerto for Ondes Martenot, Percussion and Orchestra
Jeanne Loriod, ondes Martenot
Philharmonie de Lorraine; Jacques Houtmann, conductor
"Landowski: Concertos pour Flute, Ondes Martenot, Piano, Improvisations pour trombone"
Koch 311175
Run time: 58:30
Feminine Fusion highlights the roles of women in classical music. Host Diane Jones brings you stories and music of the women who create, perform, and inspire. Produced in the studios at WCNY-FM.
◄ Back to News