The award-winning monthly "CONNECT NY" offers lively discussion and insightful analysis on timely issues that affect people across the Empire State. Tackling public affairs topics significant in the lives of New Yorkers, we explore important conflicts, personal experiences, and tough issues unfolding at the state level through the lens of the stakeholders involved – those in government; law; business; labor and environmental organizations; and community leadership. By sharing a diversity of perspectives, this program aims to shed light on potential solutions to the complex problems facing our state.
Tune in for the December Edition of "CONNECT NY" on Monday, Dec. 25 at 9:30 p.m. on WCNY-TV!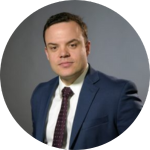 Host David Lombardo brings 10 years of experience in journalism, state politics, and digital media to the position. He previously served as Capitol reporter for the Albany Times Union, where he was also host of the Capitol Confidential podcast. Lombardo's work in podcasting and data visualization has been recognized by the New York Associated Press Association. He was named to Albany 40 Under 40 Rising Stars by City & State New York.
Lombardo earned a Bachelor of Arts degree in Political Science from the State University of New York at Geneseo.
Stream past seasons of "CONNECT NY" anytime for free on-demand!