Feminine Fusion
August 24 – 30, 2019: Humorous Music
by Diane Jones
August 24, 2019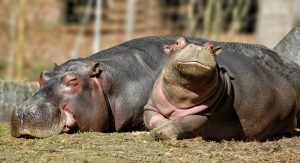 "The awful things a hippopotamustn't do
Are just
As important as the lawful things
A hippopotamust."
– J. Patrick Lewis, "A Hippopotamustn't"
Let's have some fun!  This week on Feminine Fusion, some lighthearted works, including words of wisdom from a mother, a few frogs around a fountain, dueling cats, and so much more.
"Humorous Music"
Claude Debussy:  Jimbo's Lullaby (from The Children's Corner)
Larissa Dedova, piano
"Claude Debussy: Complete Solo Piano Music"
Centaur 3094
Alla Borzova:  Mother Said
Paul Sperry, tenor
The Da Capo Chamber Players
"Pinsk & Blue: The Chamber Music of Alla Borzova"
Albany 923
Judith Lang Zaimont:  Bubble-Up Rag
Immanuel Davis, flute; Nannette K. Solomon, piano
"Prestidigitations"
MSR Classics 1238
Jennifer Bernard Merkowitz:  Les Crapauds de la Fontaine
Andrew Kovaleski, bass clarinet
"Mind & Machine, Vol. 2"
Ravello Records 7997
Jennifer Bernard Merkowitz:  A Hippopotamustn't
Text by J. Patrick Lewis
Otterbein University Concert Choir; Dr. Gayle Walker, director
Live performance, used with permission
Camille Saint-Saëns:  Carnival of the Animals (Selections)
Rika Miyatani & Takako Takahashi, pianos
Kanagawa Philharmonic Orchestra; Seikyo Kim, conductor
"Duo Grace"
Triton 00105
Gioachino Rossini:  Duetto Buffo di Due Gatti
Elisabeth Schwarzkopf & Victoria de los Angeles, sopranos
Gerald Moore, piano
"Elisabeth Schwarzkopf: The Radiant Soprano"
"Warner Classics 9184592
Franz Biber:  Battalia (excerpt)
Monica Huggett, conductor
European Community Baroque Orchestra
"Birds, Beasts and Battles"
Channel 4392
58:29
Feminine Fusion highlights the roles of women in classical music.  Host Diane Jones brings you stories and music of the women who create, perform, and inspire.  Produced in the studios at WCNY-FM.
◄ Back to News