Feminine Fusion
August 26, 2018: Another Year Comes to a Close
by Diane Jones
August 20, 2018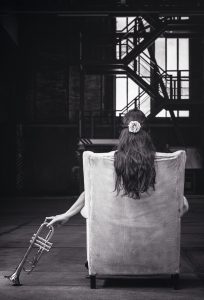 "Stories don't end.  They just turn into new beginnings."  – Lindsay Eagar
Season 2 of Feminine Fusion is winding down, and today we'll take a look back over some of the music from the past year.  Ancient music, new music, music that tells a story, and the women bringing that music to life!
Season 2 Finale
Kassia:  Tin pentachordon
VocaMe
"Byzantine Hymns of the First Female Composer of the Occident"
Christophorus 77308
Jean Sibelius:  Finlandia
Chineke! Orchestra; Kevin John Edusei, conductor
"Dvorak" Symphony No. 9 & Sieblius: Finlandia"
Signum Classics 515
Michio Miyagi:  Haro no Umi
Yolanda Kondonassis, harp
"Pictures of the Floating World"
Telarc 80488
Guillaume de Machaut:  Le Voir Dit (excerpts)
Orlando Consort
"Machaut: Songs from Le Voir Dit"
Hyperion 612378
Nikolai Kapustin:  Five Etudes in Different Intervals (excerpts)
Clare Hammond, piano
"Etude"
BIS 2004
William Goldstein:  Colloquy
Deb Scott, trombone; Ron Petti, piano
"Playing Favorites"
Navona 6075
Seal:  Kiss From a Rose
Genghis Barbie
"Genghis Barbie"
CD Baby
Gloria Justen:  Joie
Gloria Justen, violin
"Four Stringed Voice"
Independent Label
Run time:  58:30
Feminine Fusion highlights the roles of women in classical music. Host Diane Jones brings you stories and music of the women who create, perform, and inspire. Produced in the studios at WCNY-FM.
◄ Back to News