Classical Companion
Cornelia Orth, Music Director – Cayuga Chamber Orchestra
by Rouhollah Goudarzi
March 30, 2020
Wednesday, March 25: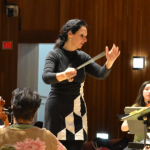 Cornelia Orth, Music Director – Cayuga Chamber Orchestra
Cornelia Orth is the music director of the Cayuga Chamber Orchestra.  She spoke to host Diane Jones about the music that brings her comfort in challenging times.  Enjoy this conversation, including a bit of music from her home in Switzerland.
Favorite Works Playlist
Alphorn Music from Switzerland: Duo Rauschhorn: Listen Now!
---
Bach, Cello Suite No. 1 in G major: Prelude Yo-Yo Ma, official video: Listen Now!
---
Kruger Brothers: Beautiful Nothing: Listen Now!
---
Antonello Venditti, Grazie Roma: Listen Now!
---
Beethoven, Symphony No. 7: Movement 4: Listen Now!
◄ Back to News