Feminine Fusion
Dec 21-28, 2018: Winter Holiday Show
by Diane Jones
December 22, 2018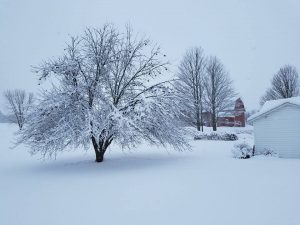 "Tis merry to hear, at evening time,
By the blasing hearth the sleigh-bells chime" – Susanna Moodie, The Sleigh Bells
Winter is here, and it's a perfect time to curl up and listen to some winter music composed, performed, and conducted by women.
Holiday Special
Sylvia Woods:  Winter Bells
Sylvia Woods, harp
"3 Harps for Christmas"
Tonmeister 1226
I'lana Sandra Cotton:  Music for Midwinter
Max Lifchitz, piano
"American Women Composers"
North/South 1043
Kevin W. Walker:  Winter in the Woods
Rebecca Jeffreys, alto flute; Alexander Timofeev, piano
"Friends in Common Time"
Jeffreys 46521
Joshua Shank, text by e.e. cummings:  Winter
Seattle Pro Musica; Karen P. Thomas, conductor
"American Masterpieces"
Seattle Pro Musica 9806
Emily Hall:  4.05
Sarah Dacey:  Down in Yon Forest
Anna Snow:  Lully, Lulla (Coventry Carol)
juice
"Snow Queens"
Resonus Classics 10224
Astor Piazzolla:  Invierno Porteño (from Four Seasons in Buenos Aires)
Nadia Salerno-Sonnenberg, violin; New Century Chamber Orchestra
"Together"
NSS Music 8
Run time:  58:30
Feminine Fusion highlights the roles of women in classical music. Host Diane Jones brings you stories and music of the women who create, perform, and inspire. Produced in the studios at WCNY-FM.
◄ Back to News