Workshops
Literacy Skills Workshops
WCNY's family literacy one-hour workshops help parents provide their children with fundamental literacy skills that are needed in school, at home and in daily life. The workshops are fun, interactive and free!
Pre-School Literacy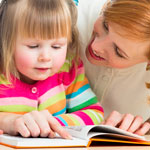 Parent Workshop (for parents of preschool age children)
This workshop helps parents discover how children develop and become prepared for reading. Learn about the literacy milestones for preschool aged children and ways to encourage your preschoolers to grow as readers.
Interactive Reading
Parent-Child Workshop (for parents of children from
toddlers to first grade)
Reading with your child not only promotes learning but can also be a time for families to bond. This workshop focuses on strategies to turn reading time with your child into a deeper skill building experience that teaches reading, critical thinking and social skills.
Literacy Lessons Wherever You Are
Parent Workshop (for parents of children from toddlers to
first grade)
This workshop will demonstrate easy-to-use strategies for improving your child's reading and writing while going grocery shopping, doing chores, taking a bath and watching television. This workshop will have you looking at your daily routine in a whole new light!
Beyond Television
Parent Workshop (for parents of children from pre-K to fifth grade)
This workshop looks at educational offerings from WCNY and PBS beyond our popular children's television programming.
We will explore the online educational games, activities and videos available on several PBS Kids websites. We will visit the PBS Parents website with its ideas involving food, fitness, crafts and more to make learning fun and educational for your children. The workshop also will introduce parents to PBS learning applications for use on mobile devices and tips on how to use them with your children. Parents will leave this workshop excited to try all of these resources that are available at little or no cost.

Eating Healthy Funshop
For children in grades 1-3 and their families/caregivers
This workshop helps children and their families learn about healthy eating. Attendees will learn how to create healthy snacks, how to use the food pyramid and more! PBS Kids programming clips will also provide a multimedia component to the funshop and demonstrate why healthy eating habits are so important.