Feminine Fusion
Feb 23 – Mar 1, 2019: Patchwork Quilt, Part XIII
by Diane Jones
February 23, 2019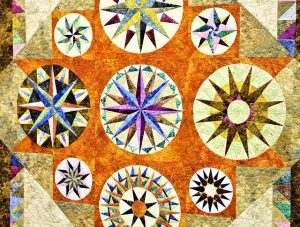 "Much like a patchwork quilt, inspiration that stirs and motivates me is made of many things."  – Robert Reynolds
Time for another Patchwork Quilt episode.  No special theme or thread to tie these works together – just music being made by talented women.
Patchwork Quilt, Part XIII
Francesco Asenjo Barbieri:  Lo que está de dios
Shudong Braamse, soprano; Teresa Ancaya, piano
"Sueños de España"
Navona 6211
Claude Debussy:  Sonata for Cello and Piano
Wu Han, piano; David Finckel, cello
"David Finckel, Wu Han: Bach, Mendelssohn, Debussy, Britten"
ArtistLed
Carlo Antonio Campioni:  Sonata in G Minor
The Vivaldi Project
"Discovering the Classical String Trio, Volume 2"
MSR Classics 1622
Nikita Koshkin:  Orpheo
Mari Mäntylä, decacorde
"Orfeo Amoroso"
Alba Records 406
Stephen Rush:  Whirlwind
Admiral Launch Duo
"Launch"
Albany 1752
Run time:  58:29
Feminine Fusion highlights the roles of women in classical music. Host Diane Jones brings you stories and music of the women who create, perform, and inspire. Produced in the studios at WCNY-FM.
◄ Back to News