Feminine Fusion
February 26, 2017: Patchwork Quilt II
by Diane Jones
February 20, 2017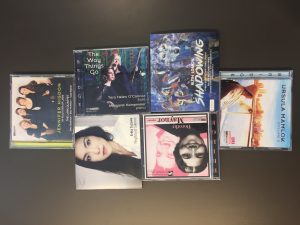 "Much like a patchwork quilt, inspiration that stirs and motivates me is made of many things."  – Robert Reynolds
Every now and then it's fun to put together a program of random works.  Over the last couple of weeks I've received a number of wonderful CDs, and now is a great opportunity to share some of them with you.  Solos, chamber works, and even a recording from a 1940 concert at the Library of Congress – all part of the next Feminine Fusion.
"Patchwork Quilt II"
Ruth Lomon: Shadowing
Eileen Hutchins, piano; Katherine Winterstein, violin; Scott Woolweaver, viola; Patrick Owens, cello
"Shadowing"
Navona 6080
Francesco di Fiore:  Miniature (2011)
Erika Tazawa
"Rhythm of Silence"
Belarca 005
Franz Schubert:  Ave Maria
Dorothy Maynor, soprano; Arpad Sandor, piano
"Great Performances from the Library of Congress, Vol. 24"
Bridge 9233
Belinda Reynolds:  Share
Tara Helen O'Connor, alto flute; Margaret Kampmeier, piano
"The Way Things Go"
Bridge 9467
Jennifer Higdon:  An Exaltation of Larks
The Lark Quartet
"An Exaltation of Larks"
Bridge 9379
Ursula Mamlok:  Molto Vivo
Holger Groschopp, piano
"Ursula Mamlok, Volume 5"
Bridge 9457
Run time:  58:45
Feminine Fusion highlights the roles of women in classical music.  Host Diane Jones brings you stories and music of the women who create, perform, and inspire.  Produced in the studios at WCNY-FM.
◄ Back to News