Feminine Fusion
Jan 19-25, 2019: High Strung, Part 2
by Diane Jones
January 19, 2019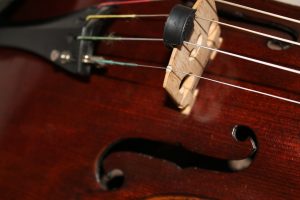 "What we might not have in terms of major concerti such as Brahms and Mendelssohn, we make up for in terms of new repertoire and experimentation."  – Anonymous attendee of the 45th International Viola Congress, 2018
It's time for another pairing of programs that highlight the orchestral strings.  This episode focuses on the high strings – violins and violas – with performances from violinist Rachel Barton Pine, violist Hong-Mei Xiao, and more.
High Strung, Part 2
Daniel Bernard Roumain:  Filter for unaccompanied violin
Rachel Barton Pine, violin
"Blues Dialogues" Cedille 90000 182
Tchaikovsky:  Méditation in D Minor
Moonkyung Lee, violin
London Symphony Orchestra, Miran Vaupotic, conductor
"Tchaikovsky: Works for Violin & Orchestra" Navona 6079
Heitor Villa-Lobos:  Deus Choros bis
Zentripetal (Lynn Bechtold, violin; Jennifer DeVore, cello)
"Zentripetal" Composers Concordance Records 018
Sir Arnold Bax:  Phantasy for Viola and Orchestra
Hong-Mei Xiao, viola
Budapest Symphony Orchestra; János Kovács, conductor
"English Works for Viola and Orchestra" Delos 3486
Georges Enesco:  Concertpiece
Barbara Westphal, viola; Jeffrey Swan, piano
"Viola Sonatas" Bridge 9109
Run time:  58:29
Feminine Fusion highlights the roles of women in classical music. Host Diane Jones brings you stories and music of the women who create, perform, and inspire. Produced in the studios at WCNY-FM.
◄ Back to News