Feminine Fusion
January 14, 2018: Too Many Keyboards
by Diane Jones
January 8, 2018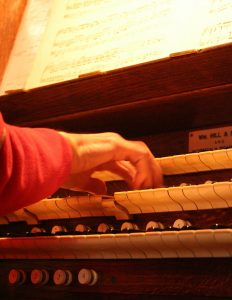 "There is nothing to playing the organ.  You only have to hit the right notes at the right time and the instrument plays itself."  – Johann Sebastian Bach
The organ is a fascinating instrument.  Each one is different, and brings a unique sound and feeling to a performance.  This week, music for the organ composed and performed by women.
"Too Many Keyboards"
George Frideric Handel:  Organ Concerto No. 10
Marie-Claire Alain, organ
Paillard Chamber Orchestra; Jean-François Paillard, conductor
"Handel: The Organ Concertos, Vol. 2"
Boston Skyline 136
Herman Berlinski:  The Burning Bush
Barbara Harbach, organ
"Herman Berlinski"
Naxos 559446
Libby Larsen:  Tambourines
Ji-yoen Choi, organ
"Laureate Series – Organ"
Naxos 555367
Florence Price:  Variations on a Folksong
Margaret Martin Kvamme, organ
"Sevenfold Gifts"
Albany 940
J.S. Bach:  Toccata and Fugue in F Major, BWV 540
Dame Gillian Weir, organ
"Organ Master Series: Volume Four – Organ Works of J.S. Bach"
Priory 800 AB
Run time:  58:30
Feminine Fusion highlights the roles of women in classical music. Host Diane Jones brings you stories and music of the women who create, perform, and inspire. Produced in the studios at WCNY-FM.
◄ Back to News