Feminine Fusion
January 21, 2018: The American West
by Diane Jones
January 15, 2018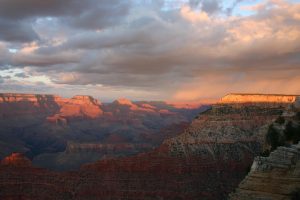 "I found that I could say things with color and shapes that I couldn't say in any other way – things that I had no words for."  – Georgia O'Keeffe
Music and art reflect the world in ways that are impossible to describe with words.  On this episode, we hear music inspired by the American west, including several works inspired by the paintings of Georgia O'Keeffe.
"The American West"
Roy Harris:  Symphony No. 3
Colorado Symphony Orchestra; Marin Alsop, conductor
"Harris: Symphonies Nos. 3 and 4"
Naxos 559227
Aaron Copland:  Four Dance Episodes from "Rodeo"
Buffalo Philharmonic; JoAnn Falletta, conductor
"Prairie Music"
Buffalo Philharmonic 1
Samuel R. Hazo:  Blue and Green Music
Indiana University of Pennsylvania Wind Ensemble; Jason Worzbyt, conductor
"Hazo:  Works for Concert Band"
Klavier Records 11212
Lon W. Chaffin:  Music, Pink and Blue (from "Faraway Nearby")
Celeste Shearer, horn; Jim Shearer, tuba; Darrell Fitzpartin, piano
"Haunted American Suite"
Summit Records 647
Ned Rorem:  Santa Fe Songs (selections)
Sara Fulgoni, soprano; Chamber Domaine
"Rorem: The Auden Songs, The Santa Fe Songs"
Black Box 1104
Run time:  58:45
Feminine Fusion highlights the roles of women in classical music. Host Diane Jones brings you stories and music of the women who create, perform, and inspire. Produced in the studios at WCNY-FM.
◄ Back to News