Feminine Fusion
July 15, 2018: Bold and Brassy
by Diane Jones
July 9, 2018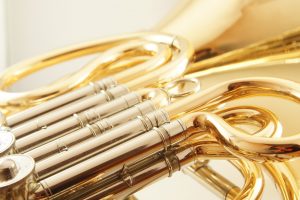 "Great musicians are great musicians, whether they're playing a trombone or an electric guitar or a xylophone."  – Chris Stapleton
Time to listen to more music from some bold and brassy women – playing trumpets, trombones, and tubas!
"Bold and Brassy"
Herman Bellstedt:  Piece de Concert
Raquel Rodriquez, cornet; Jan Corrothers, piano
"Cincinnati Virtuosity – The Cornet Solos of Frank Simon and Herman Bellstedt"
CD Baby
Antonin Reicha:  Introduction and Rondo for Horn and Orchestra
Sarah Willis, horn
Prague Chamber Orchestra; Milan Lajcik, conductor
"Antonin Reicha: Wind Concertos"
Orfeo C170021A
Paul Hindemith:  Horn Concerto
Marie-Luise Neunecker, horn
Frankfurt Radio Symphony Orchestra; Werner Andreas Albert, conductor
"Paul Hindemith: Complete Wind Concertos"
CPO 999784
Perry Goldstein:  Passage
Maureen Horgan, Julie Josephson, Scott hartman, Don Robinson, trombones
"Moe's Bit o' Blues"
Centaur 3241
William Goldstein:  Colloquy, for Solo Trombone
Deb Scott, trombone; Ron Petti, piano
"Playing Favorites"
Navona 6075
Run time:  58:30
Feminine Fusion highlights the roles of women in classical music. Host Diane Jones brings you stories and music of the women who create, perform, and inspire. Produced in the studios at WCNY-FM.
◄ Back to News