Feminine Fusion
June 3, 2018: Note by Note
by Diane Jones
May 29, 2018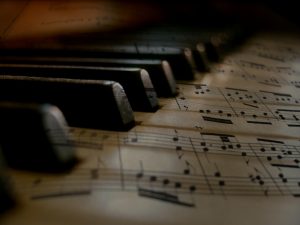 "A great work of art is made out of a combination of obedience and liberty." – Nadia Boulanger
Classical music is a living thing, constantly growing and evolving.  It's not something to be put on a pedestal and held, safe and untouched, in a museum.  It has gone through many changes – some good, some perhaps not so pleasant.  With today's technology, however, we have the opportunity to hear more music than ever before.
On this episode, we'll hear some of the newest music, from women composing right here and now.
"Note by Note"
Ellen Mandel:  Willow Song
Jessica Crandall, soprano; Ellen Mandel, piano
"I So Liked Spring"
Brite 617
Patricia Morehead:  Disquieted Souls
Carolyn Hove, English horn
Studio Ensemble; Philip Morehead, conductor
"Good News Falls Gently"
Navona 5854
Emma Lou Diemer:  Violin Concerto
Philip Ficsor, violin
Westmont Orchestra; Michael Shasberger, conductor
"Going Away"
TrueTone 9689
Nan Schwartz:  Aspirations
Synchron Stage Orchestra; Kevin Purcell, conductor
"Nan Schwartz/Brenton Broadstock"
Divine Art 25165
Teresa Barrozo:  Excerpt from "Ma' Rosa"
Teresa Barrozo, electronics
Composer recording – used with permission
Run time:  58:30
Feminine Fusion highlights the roles of women in classical music. Host Diane Jones brings you stories and music of the women who create, perform, and inspire. Produced in the studios at WCNY-FM.
◄ Back to News