Feminine Fusion
March 16-22, 2019: Folktales and Fables
by Diane Jones
March 16, 2019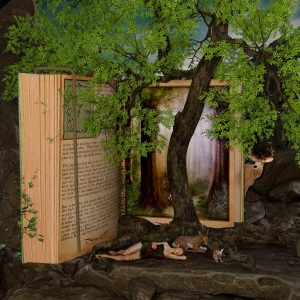 "Life itself is the most wonderful fairytale."  – Hans Christian Andersen
Music is so often inspired by stories, and each time a tale is told again, it changes just a little to reflect the storyteller.  This week, stories told by women, from the tale of Euridice, to the story of the Ugly Duckling.
Folktales, Fables, and Fairy Tales
Marian Kraus:  The Ugly Duckling
Courtney Miller, oboe; Shiela Kibbe, piano; Deberoah Selig, soprano
"Modern Fairy Tales"
Centaur 3421
Nika Leoni (lyrics by Marilena Ruscica):  Reflessioni, from Euridice
Nika Leoni, soprano; Violetta Zabbi, piano
Live performance, used with permission
Recorded October 2015
Alla Borzova:  One Bai Walked Across The Wall, from Songs for Lada
Valentina Fleer, soprano; Valentina Kozak, contralto
Michigan State University Children's Choir
Detroit Symphony Orchestra; Leonard Slatkin, conductor
"Songs for Lada, To The New World"
Naxos 8.559706
Julie Mandel:  The Pious Cat
Darcy Dunn, soprano; Daniel Dorrence, clarinet; Barbara Amers, piano; Mark Singer, narrator
"The Pious Cat"
CD Baby
Alla Pavlova:  Thumbelina (excerpts)
Tchaikovsky Symphony Orchestra of Moscow; Patrick Baton, conductor
"Symphony No. 6 / Thumbelina Suite"
Naxos 8.579003
Run time:  58:29
Feminine Fusion highlights the roles of women in classical music. Host Diane Jones brings you stories and music of the women who create, perform, and inspire. Produced in the studios at WCNY-FM.
◄ Back to News