March 18, 2022: Euclid String Quartet, CMSU
by Diane Jones
March 18, 2022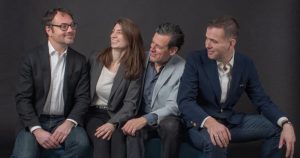 The Euclid Quartet is coming to Utica this weekend, for the next concert with the Chamber Music Society of Utica.  Violinist Jameson Cooper took a bit of time as the quartet was travelling to chat with us about the concert, and the joys of pairing familiar and new works on the same program.
Jameson has shared some additional information about the Paterson string quartet they will be performing, which you can see here.
More from the Chamber Music Society of Utica can be found here.
And information about the Euclid Quartet is available here.
◄ Live at WCNY - On the Radio