March 24, 2022: Reginald Mobley, NYS Baroque Guest Artist
by Diane Jones
March 24, 2022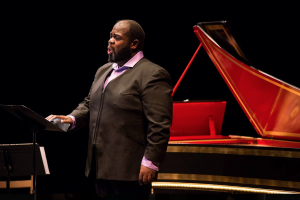 Countertenor Reginald Mobley is in Central New York for two performances with NYS Baroque this weekend.  He took a short break from rehearsal to chat about the concert, and told us the amazing background of composer Ignatius Sancho, a former slave who became a composer and the first black person to vote in Parlimentary elections.  We also learned how Reggie made the change from aspiring painter to Grammy-nominated singer.
Information about NYS Baroque is available here.
And you can learn about Reginald Mobley at his website.
◄ Live at WCNY - On the Radio