Feminine Fusion
May 11-17, 2019: Inspiring Women: Teachers
by Diane Jones
May 11, 2019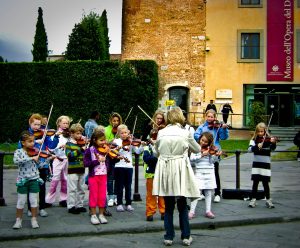 "A master can tell you what he expects of you.  A teacher, though, awakens your own expectations."  – Patricia Neal
On this episode, we honor the teachers, those who had a strong influence on the musicians and composers featured.  Teachers are so often in the background, guiding us along the way, never taking center stage, and sometimes unaware of the depths of their impact.
Inspiring Women: Teachers
Felix Mendelssohn:  Song Without Words
Alisa Weilerstein, cello; Vivian Hornik Weilerstein, piano
"Alisa Weilerstein, cello"
EMI Classics 73498
Jessie Montgomery:  Banner
Catalyst String Quartet
Julian Wachner, conductor (studio orchestra)
"Strum"
Azica Records 71302
Alan Hovhaness:  Prayer of St. Gregory, Op. 62
Susan Slaughter, trumpet
Clayton Chamber Ensemble; Jan Davis, conductor
"2015 Midwest Clinic: Clayton Chamber Ensemble (Live)"
Mark Records 52003
Leroy Anderson:  Trumpeter's Lullaby
Susan Slaughter, trumpet
St. Louis Symphony Orchestra; Leonard Slatkin, conductor
"The Typewriter – Leroy Anderson Favorites"
RCA 26680482
Shulamit Ran:  Mirage
Da Capo Chamber Players
"Music by Shulamit Ran"
Bridge 9052
Melinda Wagner:  Concerto for Flute, Strings, and Percussion (excerpt)
Paul Dunkel, flute
Westchester Philharmonic; Mark Dandarano, conductor
"Melinda Wagner: Concerto for Flute, Strings, and Percussion / Poul Ruders: Concerto in Pieces"
Bridge 9098
Run time:  58:29
Feminine Fusion highlights the roles of women in classical music. Host Diane Jones brings you stories and music of the women who create, perform, and inspire. Produced in the studios at WCNY-FM.
◄ Back to News