Feminine Fusion
October 1, 2017: Patchwork Quilt, Part 5
by Diane Jones
September 25, 2017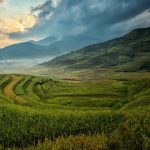 "Music comes to me more readily than words."  – Beethoven
It's another Patchwork Quilt episode, bringing you music from some of the latest CDs I've received.  Enjoy!
"Patchwork Quilt, Part 5"
Frederic Chopin:  Ballade No. 1 in G Minor, Op. 23
Eliane Rodrigues, piano
"Notturno"
Navona 6123
Meira Warshauer:  Akhat Sha'alti
Schola Coralina
"Chévere"
Ansonica 0005
Nora Morrow:  Dawn
Xiao'an Li, conductor; Arielle Burke, flute; Michael Norsworthy, clarinet; Daniel Beilman, bassoon; Kinga Bacik, cello
"Fleeting Realms"
Navona 6107
Christina Rusnak:  Dearly Departed
Ensemble Vocal Luna
"Intersections"
Ansonica 0002
Manuel de Falla (arr. by Sharon Isbin):  Siete canciones populares españolas
Isabel Leonard, mezzo-soprano; Sharon Isbin, guitar
"Alma Española"
Bridge 9491
Run time: 58:30
Feminine Fusion highlights the roles of women in classical music. Host Diane Jones brings you stories and music of the women who create, perform, and inspire. Produced in the studios at WCNY-FM.
◄ Back to News