October 20, 2022: "Madness & The Medium" Syracuse Opera
by Diane Jones
October 20, 2022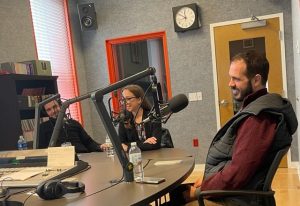 Syracuse Opera and Tri-Cities Opera continue their collaborations with a special event, "Madness and The Medium."  Giancarlo Menotti's "The Medium" is the cornerstone for an immersive performance that takes place far beyond just the stage.  Director Jennifer Williams, Christian Capocaccia (Artistic Director – Syracuse Opera), and John Rozzoni (General Director – Tri-Cities Opera) came to the Classic FM studios to talk about this exciting performance (perfect for the Hallowe'en season!), as well as the continued collaboration between these two companies.
More about Syracuse Opera is available here.
And the Tri-Cities Opera website is here.
◄ Live at WCNY - On the Radio