"On the Money" is a new fast-paced, contemporary financial news program featuring interesting people, companies, investors, and happenings in Central New York. The show explores unique individuals and their financial success stories, and looks at entrepreneurs who are making investments in the Central New York Region. Interesting people and noteworthy businesses will appear on one of the five segments of the show. In addition, less obvious and recognized stories will also appear and have a featured place on the show.
On Sept. 14, WCNY-TV presented the highly anticipated Season 3 premiere of "On the Money." The premiere episode delved deep into the transformative power of Micron and its profound impact on the regional economic landscape with influential community leaders and Micron's Vice President overseeing U.S. expansion. Together, we unveiled the intricate web of opportunities and challenges Micron brings, offering a captivating exploration of its role in shaping the future of our economy.
But that's not all! Throughout the third season, we remain committed to delivering the latest updates on impactful economic development projects and financial opportunities that greatly influence Central New York communities.
Episodes of "On the Money" re-air on Thursdays at 8 p.m. on WCNY-TV
Spotlight Host
J. Daniel Pluff
J. Daniel Pluff is a financial advisor in Central New York. He is a lifelong resident of our area and has served on several non-profit boards. Following his 20 years as host of WCNY's "Financial Fitness," he hosted and produced "Central" on Fox68, WSYT-TV, where he interviewed business leaders, elected officials, and even SU Coach Jim Boeheim. He previously wrote financial articles for the Post Standard and various newsletters. He earlier served as a Fire Commissioner for a local district and currently resides in Skaneateles with his wife and two daughters.
---
In-Studio Host
Laiza Semidey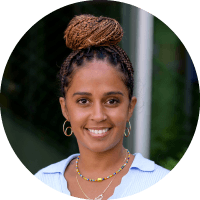 In Syracuse, Laiza Semidey is bringing people across the public and private sectors together to help deliver information and forge relationships that are helping to reshape the regional landscape. By spearheading diversity within multiple sectors, her determination to cultivate opportunities that empower underrepresented communities is propelling industries toward a more inclusive future.
In her role at the CenterState Corporation for Economic Opportunity, Semidey is dedicated to helping develop a broad workforce for the region's growing businesses. Now, WCNY is pleased to introduce Semidey as the new co-host of "On the Money." She will bring her perspective on the necessity of collaboration among employers, community organizations, and educational institutions to the show focused on the region's economic development.
Semidey is an active participant on a number of boards, including the Upstate Minority Economic Alliance, Blueprint 15, and The Good Life Foundation, where she aims to facilitate equity and inclusivity, and to catalyze positive change. As a member of the advisory council for the new MOST & Micron Technologies semi-conductor manufacturing exhibit, for example, she helped launch an experience that will introduce schoolchildren to careers in advanced technology.
That project was fitting for Semidey. It merged two of her greatest passions – the goal of creating an inclusive workforce across our region and the devotion she has to her nine-year-old son, who inspires her commitment to create a nurturing environment where individuals from all backgrounds can flourish.
Stream past seasons of "On the Money" anytime for free on-demand!
In 1992, WCNY-TV tested a new show concept geared towards personal finances and investment advice. After just one season, it became clear the show was a hit with viewers, many of whom called in with their questions during the live Thursday night broadcasts. "Financial Fitness" went on to become one of the station's longest-running and highest-rated programs.
Now, after a ten-year hiatus, J. Daniel Pluff, former host and creator of "Financial Fitness," returns to WCNY for a  new "money" show.
"On The Money" premieres March 17th at 8:00 pm as a fast-paced, contemporary financial news program featuring interesting people, companies, investors, and happenings in Central New York.
"We had a great run with "Financial Fitness," but 20 years is a long time for television, and the landscape has changed. This show feels different, more in touch with current viewer habits and interests," Pluff said. "It will spotlight where money is being made, spent, and lost locally."
The show will seek out unique individuals who will share their success stories along with entrepreneurs making investments locally. Interesting people and newsworthy businesses will appear on various segments of the show, but less obvious activities will also often appear. For example, the film industry, previously all but unknown to our market, has been flourishing. Hollywood has chosen Central New York as a popular spot for filming and hiring locals for extras. The show will introduce viewers to this growing local industry, the people making the movies, and even some well-known actors filming here.
"We are getting the chance to meet some fascinating people often doing some unusual things," Pluff said, who frequently goes on location to conduct interviews. "It's amazing to see what people are doing, making a difference in our area,"   Kevin Miller, the show's producer, coordinates the interviews and locations and adds a professional look to those shoots outside the studio. He and Pluff are constantly searching for money-related stories in our area.
Recent reports indicate a surprising uptick in investments being made in Central New York from large companies like Amazon to smaller, independent businesses. But investments in technology and new businesses, some of which have even gone public, will also be highlighted. Pluff was quick to point out this isn't an "investment show" per se, but he believes viewers will be inspired by the stories and people each week. "We're not re-creating "Financial Fitness," but I think there's a lot in these stories viewers will appreciate, learn and maybe even profit from."
For example, featured guests will offer consumer and technology tips along with money savings ideas. Useful phone and computer apps will be offered along with updated news on savings levels, interest rates, real estate, and of course, tax savings. Whenever possible, the show will also warn of local scams, especially internet-based, and offer advice on how best to avoid these traps, which can often be costly. Expect updates from the District Attorney's office and Attorney General for trends in financial crimes.
"My major concern is we already have so much to squeeze into 30 minutes each week. People are making money while others are losing; businesses are thriving and hiring while others face major roadblocks and hurdles. What factors determine success or failure, and if our local economy is improving, does that make us more financially secure? We're constantly looking for answers," Pluff said.
The positive and negative impact of local economic initiatives is essential to follow, and the show will report where and how money is being spent. But these won't all be "feel good" pieces, Pluff insists. "Government, corporate or even an individual's spending can be very beneficial in many circumstances, but when it doesn't work, we'll want to know why and who was harmed."
Topics are nearly endless, but most have a money connection. For example, the future of health care in Central New York, especially with ongoing COVD, will be discussed along with the costs of providing and receiving care. Crime, law enforcement, fire and rescue services, and the costs of providing protection will be examined. Segments will feature progress in downtown Syracuse as it emerges from a near-total lockdown, and the Finger Lakes region will be celebrated as it continues to win various travel industry awards and helps to enhance our local economy. Other stories may leave more questions than answers, such as the future of Destiny USA, the proposed aquarium, and the seemingly endless debate surrounding Interstate 81. With literally billions of dollars in play, these topics are becoming more important to us all.
"On The Money" promises a fresh look at the people, stories, and events impacting us financially – some of which will be positive and uplifting, others not so much. So join us for this new series – meet the people, discover the places and see what's impacting your wallet each week.