Ciao!
Co-hosts Joey Nigro and Jim Battaglia showcase the charm of Italian American traditions and the music of Italian American and Italian songbooks. You'll hear selections from Dean Martin and Tony Bennett; rock-era artists like Frankie Avalon and Neil Sedaka, Italian classical melodies by Luciano Pavarotti and Andrea Bocelli and contemporary Italian singers like Gigi D'Alessio, Antonio Venditti and Laura Pausini.
Joey Nigro
Joey Nigro-Nilsen has entertained audiences as a singer most of her life in musicals, clubs and concerts. Her recordings and original songs have been featured on numerous radio and CD compilations.
Nigro graduated from Syracuse University's S.I. Newhouse School of Public Communications, Joey worked in New York City before returning to Central New York. She was raised on Syracuse's old North Side Italian American community where she interviewed and wrote about immigrant forbears and second-generation Italian Americans in her family. She is a charter trustee of the Landmark Theatre and has worked in workforce development for more than 30 years.
Jim Battaglia
Jim Battaglia was born in the Southern province of Calabria and raised in an Italian American enclave on Syracuse's Near Westside, where his parents established their home when he was two-years-old. He is fluent in the Italian Calebrese dialect and has toured Italy many times.
Jim graduated from CCBI with a degree in business and has been manager of Nojaim's Market on the Near Westside for more than 40 years. He is president of the Greater Syracuse Sports Hall of Fame.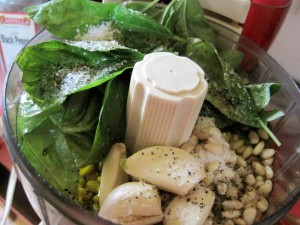 Ingredients:
4 cups tightly packed basil leaves
8 cloves of garlic
1 cup of pine nuts
2 cups extra virgin olive oil
Coarse salt and pepper to taste
Directions:
Throw everything into a food processor and pulse it until it's smooth.
Pour the mixture into plastic ice cube trays and freeze overnight.
Tip: Run warm water over the bottom of the trays (for just a few seconds) to loosen the cubes. This makes it easier to take them out of the trays and store the cubes in plastic baggies for the winter.
A message from Joey:
I always have a small plastic container of thawed pesto in the refrigerator which I dilute further with olive oil so I can throw in a teaspoon or so into many dishes I make…frittata, pasta, rice, vegetables, tomato sauce for pasta, etc. The other night I grilled salmon with a coating of cinnamon  then I put a dab of pesto on it.
Ciao! airs Sundays at noon on WCNY-FM.