Feminine Fusion
S06 Ep01: Summer Days
by Diane Jones
September 4, 2021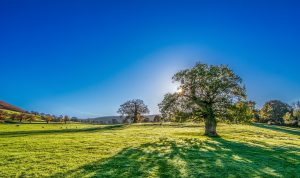 "Tis moonlight, summer moonlight, all soft and still and fair"  – Emily Bronte
Summer is winding down, and as we get ready for the fall to arrive, let's hear music and performances from women marking these final summer days.  Familiar works, new releases – it's time to soak up the last of the sun.
Summer Days:
Mira J. Spektor:  White Road of Summer and Indian Summer
Maeve Högland, soprano; Jean-Paul Björlan, piano
"Summer & Winter Songs"
Navona 6236
Aaron Alter:  The First Day of Summer
Iwona Glinka, flute
Yaroslav Tokarev, violin; Iias Sdoukos, viola; Renato Ripo, cello
"Teth"
Phasma Music 023
Samuel Barber:  Summer Music
Jeanne Baxtresser, flute
Joseph Robinson, oboe; Stanley Drucker, clarinet; Judith Leclair, bassoon; Philip Myers, horn
"Chamber Music for Flute"
Cala 544
Paul Carr:  Summer Was In August
Rachel Smith, flute; Rahcel Fryer, piano
"Summer Was In August"
Campion Cameo 2030
Astor Piazzolla, arr. Juanjo Mosalini:  Four Seasons in Buenos Aires
Gisèle Ben-Dor, conductor
Boston Pro-Arte Chamber Orchestra
"Piezzolla Cien Años"
Centaur 3844
Run time:  58:29
Feminine Fusion highlights the roles of women in classical music. Host Diane Jones brings you stories and music of the women who create, perform, and inspire. Produced in the studios at WCNY-FM.
◄ Back to News