Feminine Fusion
S06 Ep02: In Memoriam
by Diane Jones
September 11, 2021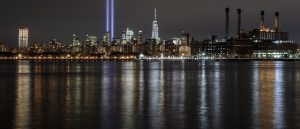 "Where words fail, music speaks."  – Hans Christian Andersen
It's been twenty years since the terrorist attacks of September 11th.  I don't know about you, but I can tell you exactly where I was and what I was doing when I first heard the news.  Overwhelming events cry out for some sort of release, some way to process them.  For composers and musicians, that is often manifested in finding music within them to express what words alone cannot convey.  We will hear some of those works on this episode.
In Memoriam:
Howard Goodall, poem by Wendy Cope:  Spared
Natasha Marsh, soprano; Alfie Boe, tenor; Christopher Maltman, baritone
London Musici; Christ Church Cathedral Choir at Oxford; Stephen Darlington, conductor
"Eternal Light – A Requiem"
Warner Classics 2150472
Joan Tower:  In Memory
Tokyo String Quartet
"Joan Tower – Instrumental Music"
Naxos 8559215
John Corigliano:  One Sweet Morning (excerpts)
Stephanie Blythe, mezzo-soprano
New York Philharmonic; Alan Gilbert, conductor
"Barber, Corigliano & Dvorak"
New York Philharmonic 20120101
Lera Auerbach:  Sonata No. 2, Op. 63 (September 11)
Vadim Gluzman, violin; Angela Yoffe, piano
"Ballet for a Lonely Violinist"
BIS 1592
Run time:  58:29
Feminine Fusion highlights the roles of women in classical music. Host Diane Jones brings you stories and music of the women who create, perform, and inspire. Produced in the studios at WCNY-FM.
◄ Back to News