Feminine Fusion
S06 Ep03: Silver and Gold
by Diane Jones
September 18, 2021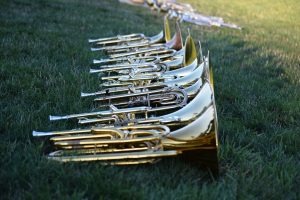 "Gold and silver and sunshine is rising up."   – Noel Gallagher
There is always something exciting about the glint of sun reflecting off of the gold and silver of the instruments moving across the field as a marching band performs.  This week, we'll hear performances from women who play brass and silver instruments.  There are solo performances, and ensembles – even a concerto.
Silver and Gold:
Jeremiah Clarke:  Trumpet Voluntary Suite
Tine Thing Helseth, trumpet
Kåre Nortdstoga, organ
"Magical Memories for Trumpet and Organ"
LAWO 1216
Theodoor Verhey:  Flute Concerto No. 1, Op. 43
Joséphine Olech, flute
Odense Symphony Orchestra; Anna Skryleva, conductor
"Nielsen, Verhey and Françaix: Flute Concertos"
Orchid Classics 100169
Kevin McKee:  Iron Horse
Calliope Brass
"Rose Strewn Course"
Independent
Michael Daugherty:  Mississippi for Tuba and Orchestra
Carol Jantsch, tuba
Albany Symphony Orchestra; David Alan Miller, conductor
"Michael Daugherty: Dreamachine; Trail of Tears; Reflections on the Mississippi"
Naxos 8559807
Run time:  58:29
Feminine Fusion highlights the roles of women in classical music. Host Diane Jones brings you stories and music of the women who create, perform, and inspire. Produced in the studios at WCNY-FM.
◄ Back to News