Feminine Fusion
S06 Ep06: Patchwork Quilt, Part XXIX
by Diane Jones
October 9, 2021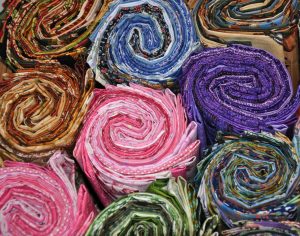 "Music is the divine way to tell beautiful, poetic things to the heart." – Pablo Casals
Time for another Patchwork Quilt episode.  No special theme, just great music from talented women!
Patchwork Quilt, Part XXIX
Samantha Sack:  A Kiss in the Dark
Janácek Phlharmonic Orchestra; Jirí Petrdlík, conductor
"Prisma, Vol. 5"
Navona 6344
Mariella Cassar-Cordina:  Waiting
Malta Philharmonic Orchestra; Sergey Smbatyan, conductor
"Contemporary Colours: New Music by Maltese Composers"
Navona 6322
Laura Schwendinger:  Flourscenza
Mat Haimovitz, cello
"Primavera I: The Wind"
PentaTone Classics 5186286
Rain Worthington:  Within Deep Currents
Janácek Phlharmonic Orchestra; Stanislav Vavrinek, conductor
"Sparks, Vol. II: Works for Orchestra"
Navona 6337
Barbara Harbach:  Visions of Hildegard
Jane Price, violin; Alla Voskoboynikova, piano
"Chamber Music VI: The Sound the Stars Make Rushing Through the Sky"
MSR Classics 1695
Aaron Jay Kernis:  Elegy For Those We Lost
Yolanda Kondonassis, harp; Michael Sachs, trumpet
"Elegy For Those We Lost"
Azica
Nicolo Paganini:  Caprice No. 7
Alina Ibragimova, violin
"Paganini: 24 Caprices"
Hyperion
Run time:  58:29
Feminine Fusion highlights the roles of women in classical music. Host Diane Jones brings you stories and music of the women who create, perform, and inspire. Produced in the studios at WCNY-FM.
◄ Back to News