Feminine Fusion
S06 Ep09: A Feast of Frights
by Diane Jones
October 30, 2021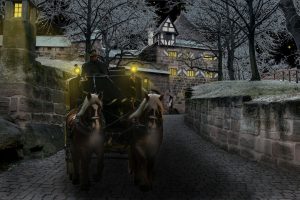 "I feel the nights stretching away
thousands long behind the days
till they reach the darkness where
all of me is ancestor."
― Annie Finch, Spells: New and Selected Poems
It's just about Hallowe'en, which brings many things to mind.  For example, did you know that the witches hat and broomstick, even their affinity for cats, can all be traced back – to beermaking?   And going about in disguise was only to ward off unwanted spirits.
Well, we have a bit of magic on today's program, along with a monster or two, to put you in the mood for Hallowe'en.  There are a couple of familiar works, but there are also some new compositions for you as well – but don't be frightened!  Every composer and performer today has complete command of their craft.
A Feast of Frights
Augusta Read Thomas:  Spells
New York Virtuoso Singers
"A Portrait of Augusta Read Thomas"
Nimbus 6262
Camille Saint-Saëns:  Danse Macabre
Rachel Barton Pine, violin
Patrick Sinozich, piano
"Instrument of the Devil"
Cedille Records 41
Anže Rozman:  Medusa
Quintessenz
"Incantations: Music for Flute Quintet"
Genuin 16421
Paul Dukas:  Sorcerer's Apprentice
Yuja Wang, piano
"Yuja Wang: Fantasia"
Deutsche Grammophon 4790052
Chelsea Komschlies:  Book of Spells
Crescent Duo
"Flute/Clarinet Chronicles"
Blue Griffin 543
Maximo Pujol:  Suite Magica
Yolanda Kondonassis, harp
Jason Vieaux, guitar
"Together"
Azica 71297
Run time:  58:29
Feminine Fusion highlights the roles of women in classical music. Host Diane Jones brings you stories and music of the women who create, perform, and inspire. Produced in the studios at WCNY-FM.
◄ Back to News